Written By Tom Suddard |  Jul 18, 2019 update to the Ford E-250 project car
DECKED STORAGE SYSTEMS FOR VANS: CLICK HERE
We're working on turning  this $2000 van  into a do-it-all machine that can tow a car to the track, then serve as a mobile workshop and hotel room for the weekend.
We carry a lot of stuff around with us. It's one of the perks of owning a van, but also one of the realities of our life: We're constantly in need of tools, spares, and all the other odds and ends necessary to support a life of project cars and racing. And for the most part, we'd been doing okay with our hodgepodge of storage bins and toolboxes. A Harbor Freight 301-piece mechanic's tool set held many of our tools, while a big Pelican case we found on eBay held everything else, from spare fuses to tow straps to tie-downs to hammers. This system worked, but it had its flaws: It was tough to tie everything down properly, it didn't give us much space, and actually accessing any of our equipment meant unstrapping and moving heavy boxes while crouched in a van. Plus, whenever we carried something bigger, we had to unstrap all of our tools and move them out of the way. There had to be a better option.
And, fortunately, we found one. We called  DECKED , a company we'd seen at  SEMA   selling a really slick looking drawer system designed for truck beds. Their website explains their story better than we can:
"After over 20 years of battling, band-aiding and otherwise fussing with homemade wooden drawer systems made of plywood, dimension lumber and half the hardware department from True Value, we came to the conclusion that there had to be a better way. Drawers are awesome, especially in the back of your truck, so we couldn't believe there wasn't an affordable and compelling solution on the market. So what started out on a napkin in a local diner, evolved into a rabid pursuit to create a product that would make the lives of working men and women better. In 2013, after nearly three years of research, design, and engineering work,   DECKED   was born."
Our question was simple: Do you make this thing for a van? Turns out they do , and their catalog spans nearly every make and model of truck and van on the market. They were kind enough to send us a kit to try out, promising to solve our van's storage problem. How much does one of these things cost? The kit we used in our van retails for $1299.99, and that includes free freight shipping. Have a smaller truck or van? Odds are good your system might be a little bit less expensive.  
So what is it? In simplest terms, it's plastic drawers [with a steel frame] that bolt in the back of your truck. But that doesn't do them justice. The system can hold 2,000 lbs. on top, and 200 lbs. in each drawer. It's weatherproof, too, and   DECKED   also offers a ton of accessories for the system. The entire system weighs about 200 lbs. Their site is full of locks, dividers, toolboxes , tie-downs and more that worked with the base system. Plus, it even includes a built-in bottle opener!>
The next thing we knew, a semi-truck showed up with a giant box in the back, and we went to work. Our first move was to read through all of the instructions, and we can honestly say these are the best instructions we've ever received with any consumer product ever. They were accurate, well-illustrated, clearly written, and even fun to read at certain points. Plus, the paper was thick enough that we didn't destroy it during the 6-hour assembly process.
Why'd it take us so long to install the system? We had E-track and seats in the way, so we had to start by removing things and plugging holes. We were also working alone, despite   DECKED   suggesting that having a friend around to help makes things much easier. 
Most   DECKED   systems don't require any drilling, but because our van didn't have any tie-downs from the factory like a pickup truck, we had to start by installing provided tie-down points:
Then we removed our rearmost seat and the E-track from the floor, leaving us with a blank canvas. However, it was a canvas full of holes. 
We used grey seam sealer and plastic Christmas tree fasteners to plug all of the holes in our van's floor.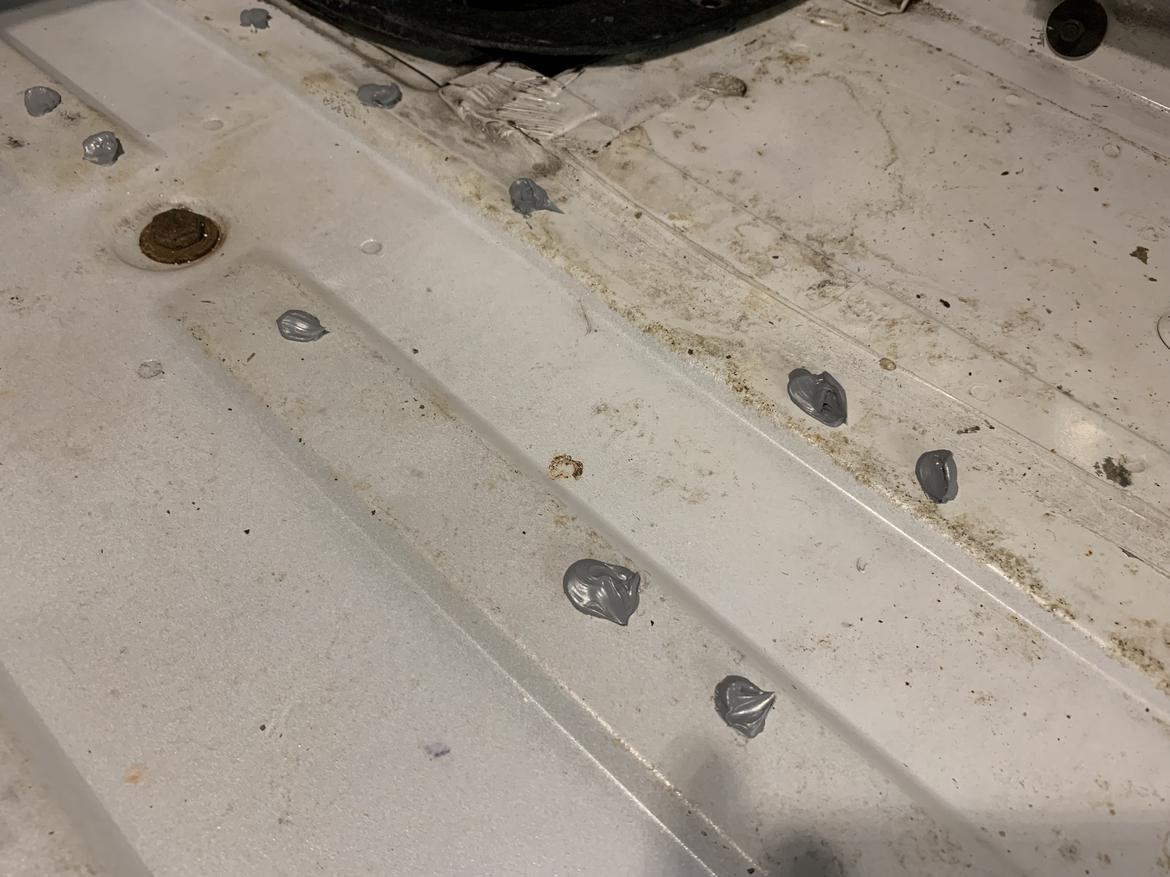 Next, we stuck two shims down for the   DECKED   system. Again, this step isn't required for most installations, but our van needed them.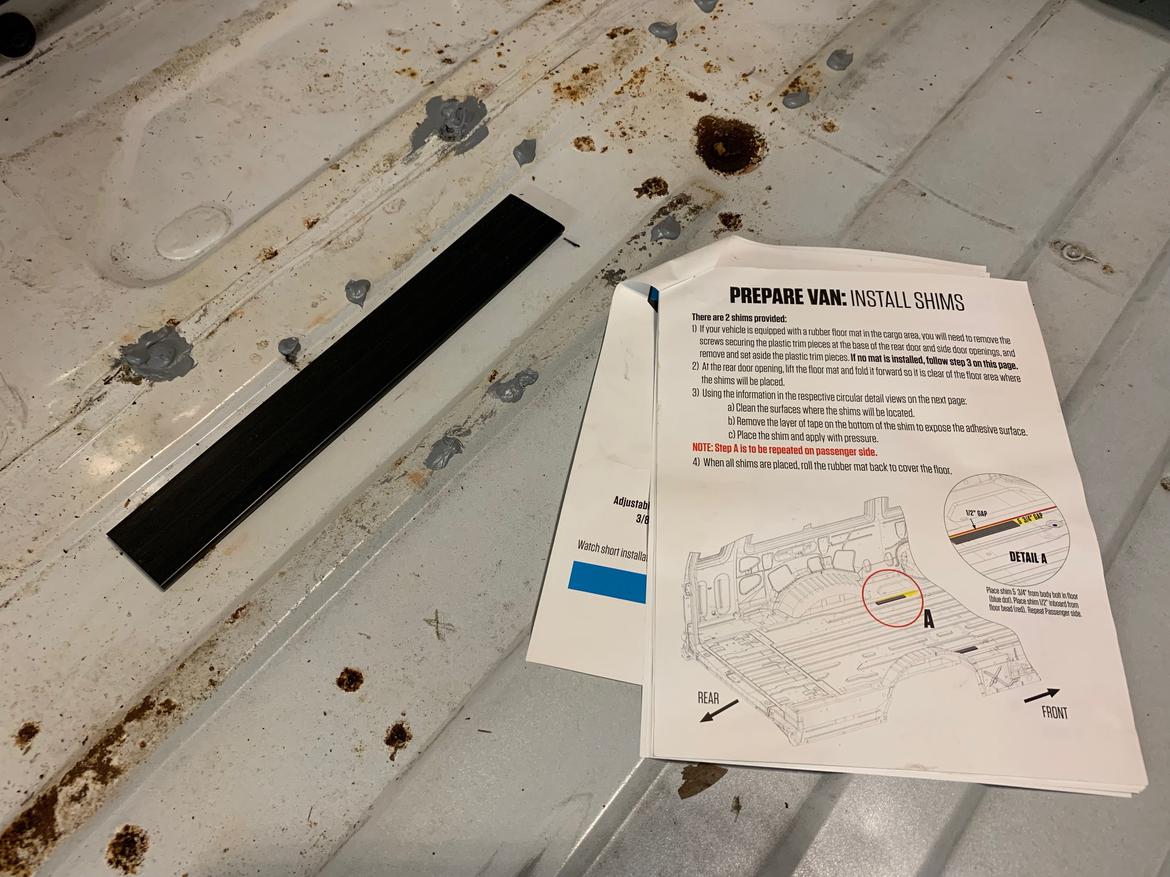 With the prep-work done, we laid our rubber mat back down and kept working, moving methodically through each page of the instructions.
Note that at   DECKED 's reccomendation, we didn't use power tools for most of the assembly. We're pretty sure our trained hands would have been fine, but they strongly caution against stripped fasteners due to overzealous pickup truck owners.  
The system attaches via four J-bolts, one on each corner. These attach to the factory tie-down points if you have them, or the   DECKED -supplied tie-downs if you don't.
After four hours, it was looking like a storage platform!   DECKED   includes trim for each side of the platform to keep things from sliding down into the cargo van's nooks and crannies. Notice the cutout for the factory jack, too, which allows it to be accessed without removing anything.
Next, we bolted the hardware onto the drawers. They seem seriously overbuilt, leading us to believe they could handle much more than 200 lbs. Or else they're designed to handle 200 lbs. while the truck is airborne. 
Success! Our van was now successfully   DECKED ! 
Next, we started moving in. We added a few   DECKED   accessories, too, including L-track tie-downs and a few dividers and D-Boxes, which are toolboxes shaped to fill every inch of space in each drawer. 
We installed the system about six months ago, and have been using it almost daily since. It makes it easy to access all of our tools:
Even when there is 2,000 lbs. of magazines on top: 
And we don't have to move anything out of the way when we carry big items:
And when camping, we just throw the mattress right on top:
We also carry our pit bike to races on top of the   DECKED  system:
After six months of heavy use, here's our summary: This is by far the best tow vehicle storage solution we've ever seen. It's cleverly-designed, well-built, affordably priced compared to other store-bought options, and just plain awesome. Oh, and it seems to be indestructible too, despite us dragging car parts around on it all the time. We'll probably never own a tow vehicle without a   DECKED   system in it again. You can learn more, and find a   DECKED   system for your truck, at  decked.com .