WHY OUR WOODY CAME TO MATTER
After over 20 years of battling, band-aiding and otherwise fussing with homemade drawer systems made of plywood (and half the hardware department from Home Depot) we came to the conclusion that there has to be a better way. We couldn't believe there wasn't an affordable, compelling solution on the market. So what started on a napkin in a local diner, evolved into a rabid pursuit to create a product that would improve the everyday lives of working men and women. We know that every minute you save during the day, means you'll gain an edge and have more time and energy for what really matters. That is our mantra. The reason we created DECKED. In 2014, after nearly three years of design, and engineering, DECKED was born.
100% MADE IN THE USA
Manufactured in Defiance, Ohio, we have gone to great lengths in R&D, engineering, and manufacturing to make life easier for our customers. You're damn right we're zealots for good ergonomics and efficient organization. Driven by a passion for perfection and doing the right thing, we are proud to design, engineer, and manufacture our products from recycled materials right here in the U.S.A. We're even prouder to treat our workers well and help improve the everyday lives of our customers.
ALEX GREENING
Ecommerce Marketing Manager
Alex Greening was born and raised in the 909, specifically among the rarified air of Claremont, CA. He's a big time boxer fan who loves the scream of a tuned WRX, but is also working on several restoration projects which coincidentally happen to include fast engines. He once had a job at a golf course which sucked. Then he had a job running a late night hot dog cart, which he says did not. A perfect weekend for this eComm magic man involves skateboarding, camping, and hitting the rev limiter. When he's not using Reddit to find poached streams of FC Arsenal games, Alex can be found honing his aim at beer cans with his .22, reading, and whipping up the gourmet grinds. Fun fact about Alex: he admits to liking cats and still has not been fired from DECKED.
ASHLEY SCHWARZMAN
Administration & Operations Coordinator
Ashley was the only girl in her High School who drove a Trans Am, blasted Foreigner and feathered her hair, preferring burnouts in the school parking lot over cheerleading tryouts in the school gym. A resident of Continental, OH, Ashley has said "yes" once in her life, to her husband that one time. She keeps the ducks lined up at our plant in Defiance. She's a grad of Northwest State Community College with an associates in business management and a minor in talking sweetly while slitting your throat with a letter opener. She's got graphic design chops and a penchant for taking beautiful photos and painting in the Bob Ross style.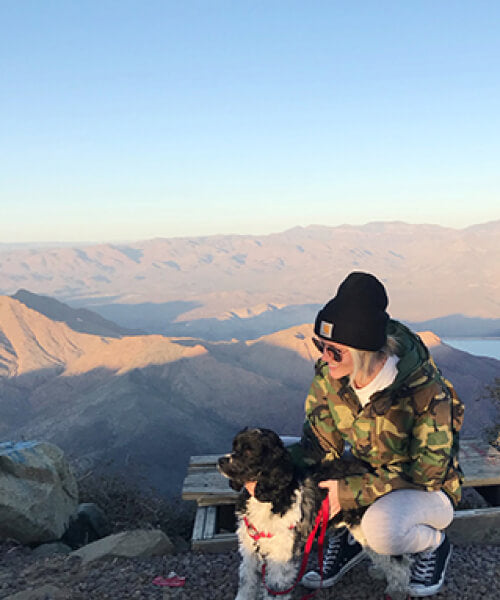 AVERY ROWETT
Regional Sales Manager
Another one of DECKED's numerous anomalies, Avery spent some time as a merchandising manager for a chic fashion company before deciding trucks was more her gig. As a college graduate from U of New Hampshire, it was literally live free or die when she told her folks about her career path choice. She's married to a man named Zach who is reportedly excellent on the bassoon, has a lovely daughter Madeline, and a dog named Blue. The four of them allegedly spent the last 6 months binge watching the entire Keeping Up with the Kardashians thing.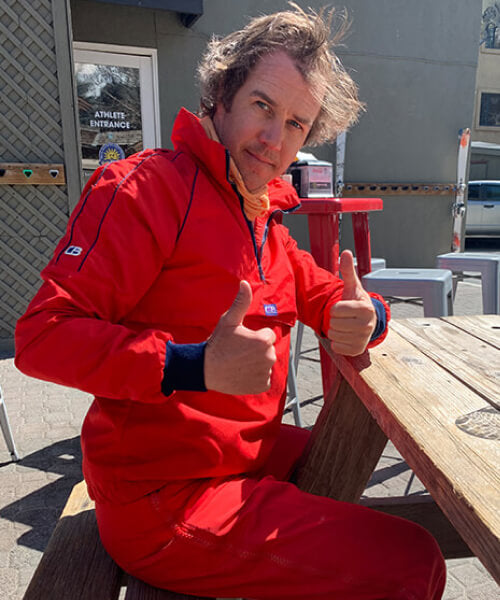 BILL BANTA
President
When Bill's forefathers entered through Ellis Island, an important part of his heritage was lost-- the family name was erroneously altered from Batman to Banta. He recovered some of his birthright by learning to fly and serving as social chairman for the Sigma Chi fraternity while earning a master's in buzz management at UVA. Bill has a colored past, working on the bulbous aesthetic of the Blue Origin sorta spaceship as well as bringing a camera to every iPhone (yep, the selfie is his fault). When he's not pontificating on the origin of empty datasets or why men wear neckties (aka ribbons) you can find him sashaying through the hills whistling a merry tune.
BRIAN STEVENS
Product Manager
Self identifying as "drive it like you rented it", or more appropriately, "drive it like you stole it", Brian can fashion you a Mad Max battle winning rig from a washing machine, Ford Fiesta, bailing wire, and stick of chewing gum. He's an OG from the beginning of the CargoGlide who has developed and fabricated literally everything that is great about the product line today. With more tattoos than Hell's Angels starter gang, he's been known to quote Marx and Stalin between expletives at an Olive Garden all you can eat bread sticks night. Want to get married on rented swamp land in Scotland? Hit him up, he's an ordained minister and literal Lord as an owner of 10 square feet in the motherland. Oh yea, his wife, Randi, knows more about CG than him.
BRYCE LONG
Shipping Supervisor
Whoever coined the phrase, "You better put a ring on it," came up with it while studying Bryce's bio. Senor Long learned his ways growing up in Liberty Center where he majored in corn fields, white tail deer, game blinds, and duck farts. He's had the same girlfriend for at the writing of this piece, nearly a decade, but for a guy that spends more time in the blind and in the field than he does in his own house, remembering to go to Zales and then trying to run into your girlfriend at the right time seems to be two coincidences he has not seen unfold as of yet.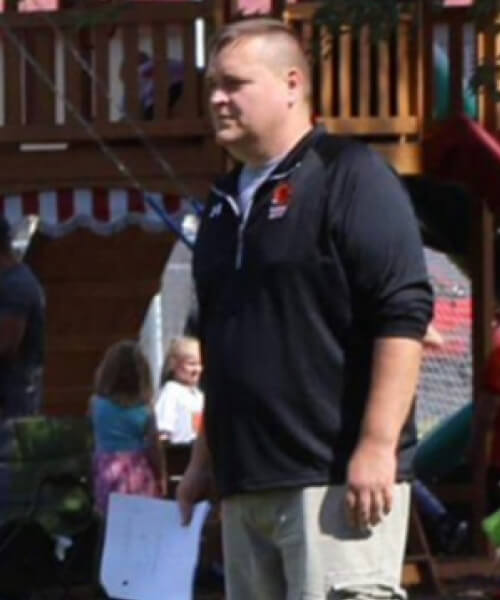 BRYAN PERRY
VP Manufacturing & Distribution
The first time Bryan ever stepped on an airplane was to work at DECKED. Now his hobbies include base jumping, speed flying and the two man bobsled. To say Bryan knows injection molding and quality control would belike saying that some cars in Ohio have a little rust. Bryan's combined 20 years as Quality Manager has entitled him with the right to say WTF whenever the "F" he wants. He's a rabid Ohio State football fan and recently re-bandwagoned Cleveland Browns fan. He's got two kids of his own (that he knows of) and a few step kids with his wife Joan Brady. He's a coach of kids sports and a river boat captain on the SS Minnow of the Maumee.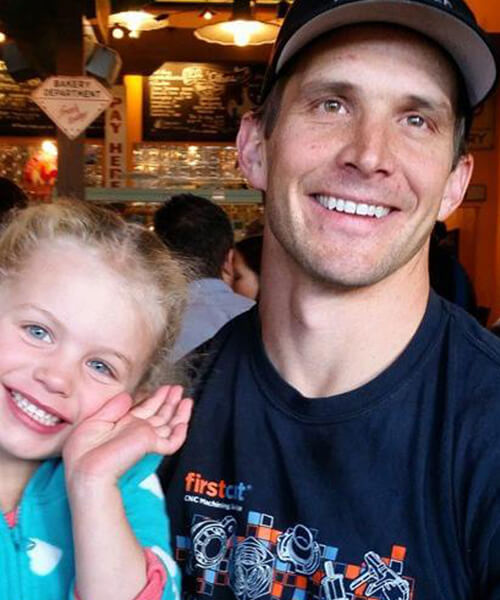 CALVIN ALLAN
VP Hardware Engineering
"This ain't the end of the world, but you can see it from here," read the sign entering Calvin's hometown. Raised in Fear and Loathing, Nevada, Calvin got into shaving his legs at the age of 13 and racing bikes at 14. He fled to Boise State University where his trumpet skills got him a full ride scholarship playing lead in the marching band. His bike racing wins took him places, but his inner "engine-nerd" tied him down with a fleet of Land Cruisers in various states of aspirational rehab. He can recite Naked Gun 1-3 line for line, and his lovely wife and daughter enjoy listening to Calvin try and explain his dreams of geared differentials (let's just say this guy married up).
CICELEY PEAVEY
Operations Accountant
With never enough room to roam, Ciceley was raised in the middle of nowhere. She moved a little further away where she managed to graduate high school, dominate stick and ball sports, and go off to the "big city" for college where she acquired the nickname "Shotgun Peavey." A rabid Idaho Vandal fan (sorry about your football team) she was born on Valentine's Day, but hates heart shaped chocolates, sweet nothings and sappy love cards. She can make a pizza that will give you a coronary and expound ad nauseam on the virtues of the various notes in an IPA. And yep, she's a sorority girl.
DELAMON RASTAMON REGO
SVP Commerce
Delamon, the human bullhorn, was raised in Guatamala born to the only Olympic skier the nation has ever produced. He dabbled as a Middle Fork river guide while working on a degree in baritone mathematics at Stanford. He's also spent significant time underwater as a scuba instructor (it was for the bikinis) and spearfishing/diving for abalone. Also a member of the carnival arts guild, Del can juggle flaming torches, chainsaws, spears, you name it, without having lost a limb...Yet. He's a consummate history buff specifically for Navy related lore as well as a guy who would rather saw off his hand than run a sponge over anything wood. If you run out of meat, word has it he always has a half a hog on ice.
DENIS MCNAMARA
VP Sales
Denis is a former freestyle mogul skier who somehow figured out a way to ski full time in the winter and earn an Economics degree from the University of Washington, although it did take more than 4 years. When the real world came calling he turned his sites to corporate America that resulted in a 27.5 year career with what is today, MillerCoors. The climb up the corporate ladder lead to tours of duty in Fargo, N.D., Des Moines, IA. and St. Louis, MO, before eventually returning to the friendly confines of the Northwest. He plays to an always fluctuating single digit handicap while following his daughter's career as a goalkeeper on the UW's Women's Soccer team. He and his wife, Joann, are slowly adjusting to life as empty nesters along with the family dog, Tucker.
GREG RANDOLPH
VP Marketing
Greg Randolph was born a cross eyed, flat footed, asthmatic with a fear of heights, deep water, wide open spaces and small dogs. When he is not working on developing new physical ailments or phobias he enjoys pretending to listen to his four daughters and seeking out quiet, estrogen-free pockets around his property. Punching way above his weight, his wife is the cause of much conversation when they enter the room which typically goes, "What on earth does she see in him?" Greg rides bikes, skis, fishes, hunts, and reportedly has hand-eye coordination on par with a one-armed, one-eyed, drunk Labrador.
IAN MURPHY
Regional Sales Manager
Ian Murphy or 'Murph' as his friends call him is your typical Idaho good ol' boy. He grew up skiing, hunting varmints, throwing the occasional gainer and driving trucks. The latter came in handy for DECKED as his first position with the company was hauling our 40 ft. display trailer around the continental US and parts of Canada. Watching Ian parallel park this beast in downtown New York City has been described by bystanders as an "out-of-body experience." As a recent graduate of the University of Idaho and member of the Delta Tau Chi Fraternity, Ian has honed the skills needed to start food fights, drink Natty Light, pop collars and 'bro down' with the best of them.
JENS BLACKMAN
Engineer
Jens, DECKED's BVOC (Big Viking on Campus), got his start in engineering by helping design and build a flying gokart, which according to sources, did not fly so much as it did bounce. Undeterred he picked up a stint on Montana State's lumberjack team where he made it all four years without losing a single appendage. But the highlight of his career up until coming to DECKED was giving bad directions to the CEO of Google. Jens is an avid stinky beer drinker and enjoyer of all things enjoyable including the cinematic masterpiece which is "Napoleon Dynamite".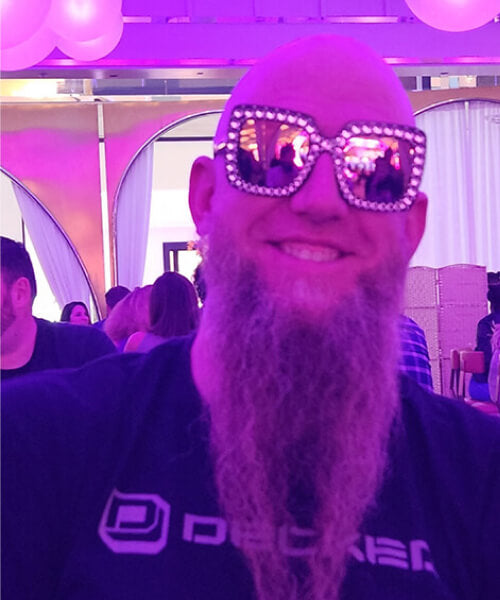 JOHN MACARTHUR
Product Development & Integration Engineer
As soon as the ink on his driver's license dried, John moved to the Motor City where he's lived ever since rocking in the free world on a guitar he built in his garage on a CNC Router he built himself. John's a handy fella who's never met a chance to dance, dress up, or get formal that didn't give him hives and a mild form of myocarditis. John's a regular at the DMV with a paper trail of over 40 titled vehicles and equally as popular at the ER with a rap sheet which includes over 10 broken bones, 2 collapsed lungs and 3 blood clots, which makes sense for a guy who lives to build stuff, break stuff, and fix stuff.
JORDAN LANNING
Engineer
If you've ever had a Pitbull attach itself to your leg and shake vigorously until you submit, you know what it feels like to be an engineering problem assigned to Jordan. Born and raised in "Eastern" South Central Western South Dakota, Jordan got his degree at Boise State after a five-year deployment in the Army's storied 10th Mountain Division. Afterwards, he realized that real men go to University of Idaho, and off he went to become a Vandal and collect a Master's in Engineering Mismanagement. He toiled for several years in the dungeons of SGW Designworks before following his mentor, Tasche, to DECKED. Hates Bud Lite. Loves Keystone, camping, Letterkenny, and working on trucks.
JUSTIN REYNOLDS
Production Supervisor
If you're ever at DECKED Ohio and see a guy wearing baseball pants to work, you've found Justin. As a busy dad to two young whippersnappers, he's basically never without a whistle around his neck and clipboard in his paws coaching three sports. He holds Defiance's baseball pants record with 150 days. An avid outdoorsman, Justin raises his kids to know how to stalk, hunt, and dress out anything that is in season, including the buffet at Buffalo Wild Wings. As his wife of 14 years will tell you, every night is a romantic night unless the Yankees or Buckeyes are on or any particular animal species is in season.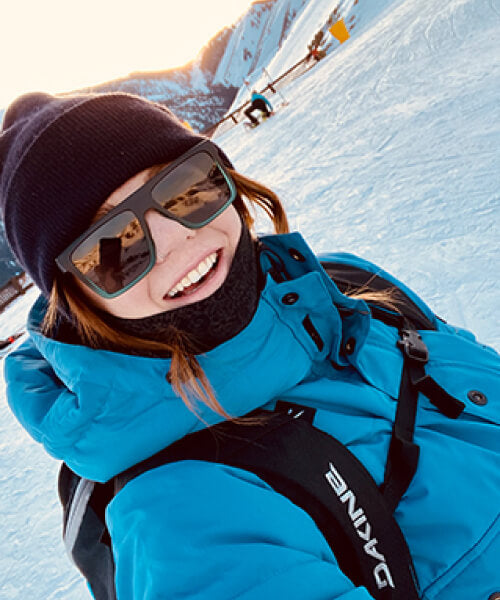 LAURA ELGEE
Marketing Projects & Events Manager
If you ever were given good advice, it might have been don't date the judge's daughter (but you can marry her). Laura was raised by a man of the law and as a result was a child of the bar. With a degree from BSU in communications (and man can she communicate) and a secret sorority handshake on her record, you're well advised to warm her up with an espresso martini before she shotguns you into the ground. Born and bred in the potato state, she's a snowboarder who is terrified of rodents unless they own a sweet boat with a mooring on the lake.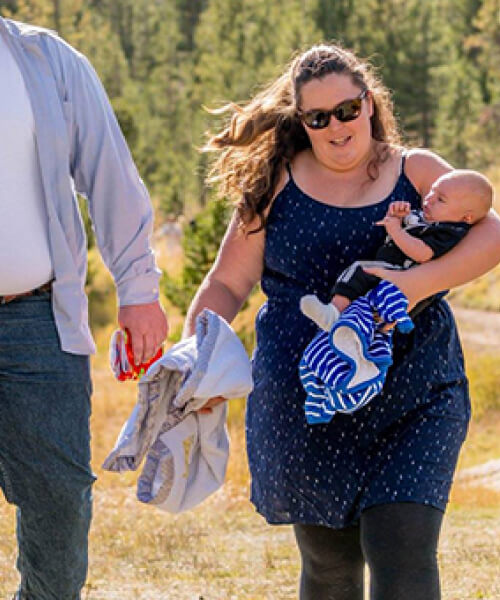 LACIE FIGGAT
Human Resource Manager
Lacie spent five years at the First Bank of Idaho in the AP/finance department, ushered in a new form of low in the American economy and promptly left to work at Smith Optics. An electric personality, she has nearly been struck by lightning on at least 3 occasions. If you owe DECKED money, she is the one you talk to and we'd suggest payment on receipt. When she is not busy collecting our milk money, Lacie enjoys road tripping to American landmarks like Mt Rushmore (what's up Flinstone's Campground!) or cruising the redwoods with her man Robert and their young progeny, William. Lacie is a second generation native to Ketchum, and among other things, used to live in the building which now is home to our favorite house of ill repute, Grumpy's.
LIZ WARD
Customer Service Manager
Liz is another long time Idaho local, aside from her 'college girl' years at the university of Arizona. Go Wildcats! She likes Mexican food, working out, camping and taking care of her baby boy Canaan and her other son (a French bulldog named Tuk). Sure, she comes off sweet and delightful on the phone, but DO NOT CROSS LIZ. Put it this way, she's not someone you'd want to meet in a dark alley. As a bonafide member of Raider Nation, when not painting her face silver and black during game day, you can find her cuddling by the fire with a glass of rose because a wise woman once said, "The most expensive part of having kids is all the wine you have to drink."
MATT COOPER
Regional Sales Manager
Matt "The Wall" Cooper hails from Duluth, Minnesota, so it's no surprise that he's good with a stick. Hockey, golfing, fishing, bartending…Matt's basically a mix between Brian Flanagan in Cocktail and Happy Gilmore (minus the whole anger management thing). After graduating from Iowa State University (Go Cyclones!) Matt tended goal for multiple semi-pro teams before moving out to Idaho to play for the Sun Valley Suns. Why keep trying to get recruited for the NHL when you can be a small-town celebrity?! Suns games can get pretty loose. We've heard the goalie is typically the best player on the team (we're not sure about that) but Matt is hands-down our last line of defense here at DECKED.
MATT HARDINGE
Community Marketing Manager
Born in Canada, raised in the UK, studied in the US, toured as techno/house/acid DJ in Eastern Europe, got a sports marketing degree, moved to Reno, NV. If that intro didn't make you want an air sickness bag, we don't know what will. Matt's a rabid upland game hunter, fisherman who specializes in losing flies (definitely the guy you want to fish downstream from for those "artificial" hatches), an OCD Tacoma accessory freak, and loving father of a freakishly cute daughter. When he's not sipping buttery Chardonnay's or zesty White Claws, Matt can be found either doing rescue scuba diving work or averting death in the mountains. He also happens to be the only person we know who has bagged an elusive snow cock (we'll let you Google that one).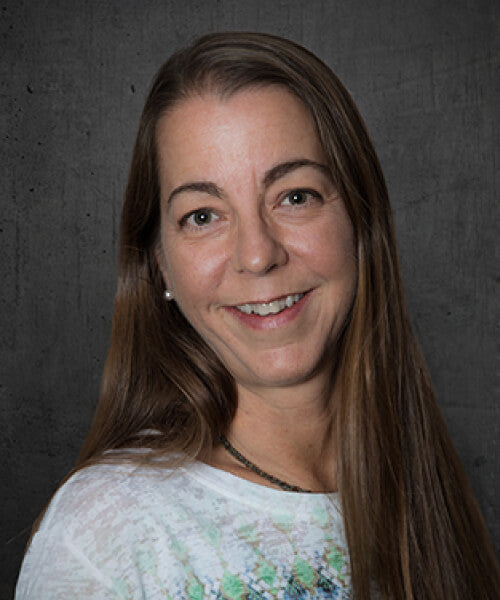 MARGO L'HEUREUX
Quality Assurance Manager
Raised in the Washington, DC area and speaker of conversational German just for the fun of it, Margo readily admits that she hates Maryland crab but loves potatoes, so she moved to Idaho… Well, actually, Margo followed a man to Idaho just after college, whom she married and has been with ever since despite the many life threatening situations he's put her through – like hiking on cliffs stating it was a "shortcut," dumping her into a waterfall from a poorly rigged cataraft and then rowing over her, and introducing her to skiing by saying "just go like this" and then abandoning her at the top of Sun Valley's Baldy Mountain. Margo has since become pro in all of these sports so it's now her 14 year old son's turn to keep up!
OLIVER GUY
Information Technology Administrator
Here at DECKED, we're proud to have the computer version of Bobby Fischer on our team. Since securing half the the town of Ketchum's "inter-webs", people often refer to Oliver as a prodigy. Oliver also dabbles in photography and collecting vintage Tamagotchi's in his spare time. As smart as he is, here are a list of things he's never done: text on a flip phone, write in cursive, rewind a cassette tape with a pencil, listen to music on MTV, wait for dial tone, use a phone book or read time on a watch that's not a miniature smartphone connected to your wrist.
PATRICK DIGIOIA
Regional Sales Manager
Pat has a personal honeybadger as a hairstylist and manicurist which is unique for a man who cut his teeth in the software and outdoor equipment sales world. Hailing from western PA and the WV hills, he's never met a whiskey still he didn't like. Pat currently calls Mt. Airy, MD home where he identifies as a ski bum, avid fisherman and kayaker, and all around dirt bag mountain man. Raising a tater tot of a daughter into a full grown human keeps Pat busy enough that his sick Tacoma that is typically rallying the backroads of the eastern seaboard has been primarily deployed lately for diaper runs at Target and a mobile napping unit.
PEGGY "HOOPS" WOLF
Supply Chain Director
Peggy "Hoops" Wolf likes long walks on the beach of Ohio, cruising with the top down on her Jeep, a cold beer and kicking it on the porch with Clint Black on the radio. She's born and bred Ohioan who put up 1,000 points and 1,000 rebounds as a high schooler at Patrick Henry HS. They call her hoops for a reason, and it's not for her flair with 80's ear jewelry. One interesting factoid is that Hoops likes chili, a lot. But she hate's beans so she picks out every one, which combines with a burning passion for gambling, specifically slots and KINO. She attended THE Defiance College and earned a degree in Business, Bean Counting and Sports Management.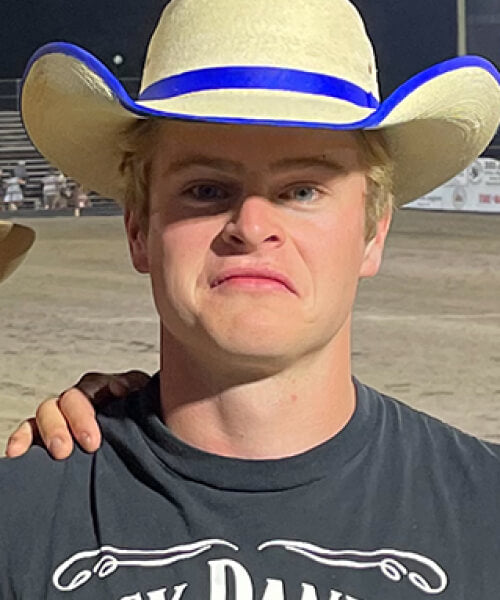 PETER WOLTER
Digital Marketing Manager
Peter is another DECKED anomaly who puts up solid results across a variety of arenas. Except if that arena is Tinder where he bats a worrisome 60% on pickup lines and has actually set the app's national benchmark for the most time (2 weeks) in southern California without a match. Aside from fast cars, slow women, tasteful trucks, and stealing Strava segments from local bro's, Peter can perform flawless CPR on nearly any type of household pet. With a right leg which is longer than his left, nothing gets his giddy up going more than seeing hard work pay off.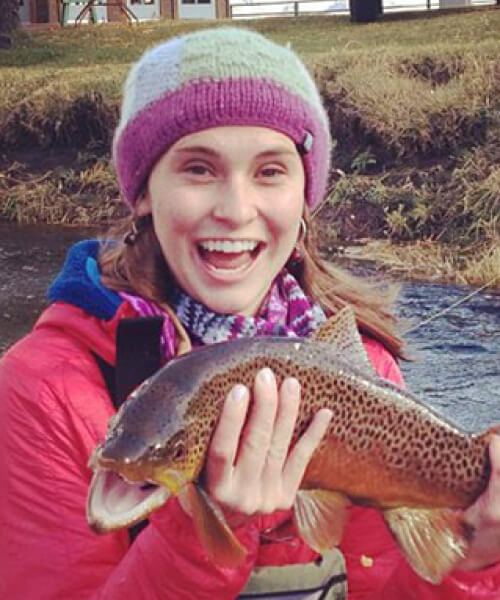 RACHEL FARRELL
Regional Sales Manager
Another native of Idaho, Rachel Pace comes to DECKED with a long list (like most women) of likes and dislikes as well as (like most Idaho women) a long list of things she can do better than you. Rachel went to college, so we assume as she is incredibly organized, proactive, outgoing and disciplined. She drives a truck, loves to fly fish and hunt mushrooms as well as slide downhill on snow, claiming rights in both the ski and snowboard phylum. The way to her heart is through a late night quesadilla and a cold Coors Light.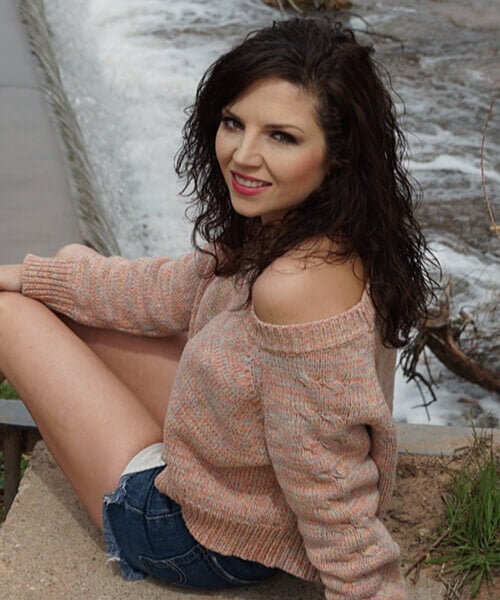 RANDI STEVENS
Customer & Dealer Service
DECKED's one and only Dorothy, Randi grew up on the windswept plains of Oklahoma brainwashed into believing the Sooners would one day win the BCS. She earned her fanhood of adrenaline shortly after clicking her heels and ending up in St. George, UT married to a man who definitely does not drive the speed limit and likes the sensation of getting all four wheels off the ground. She lists rude people as her one and only pet peeve so chew all you want with your mouth open around her. A huge fan of the great outdoors and water sports, she's a family girl to the core.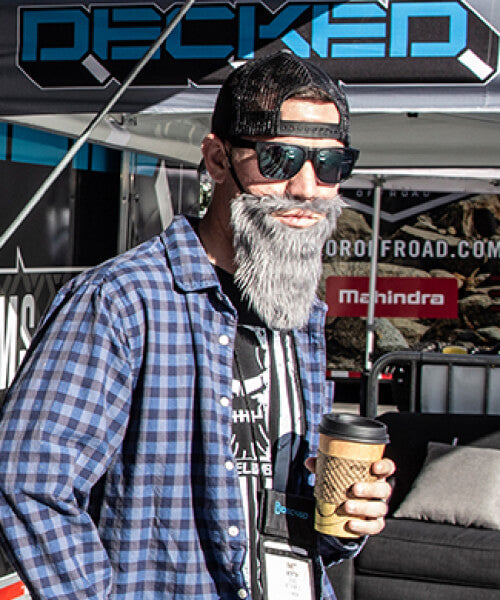 RHETT MORTON
National Sales Manager
We like to call him "College" as he did graduate from UAB with a double major in marketing and fraternity drinking games. While he might be the best looking of the bunch, we are sorry to inform the ladies, he's a newlywed. Sports freak and chronic Tweeter of sporting observations, he is the unofficial head of the #FireRayWatts hashtag campaign. An avid golfer, a pastime which claims to be a real sport, Rhett can be found whining over beers about Atlanta having never won a championship at anything at your local Hooters. Working for an Idaho company means one day the boy will become a man and learn to ski but you'll have to stay tuned to @rhettmorton for updates.
SAM WOOD
Product Management
Sam is the progeny of a lobster and a hermit crab that met while vacationing off the coast of Maine. If you pick him up by his shell, his legs keep moving rapidly. Raised on an "island" (there's a bridge to the mainland, Sam) in Maine, you can hear the Mainer in him if you listen closely. He was the Nickelback of socks and sandals in high school. In one year, he won the science fair and was state champ in Nordic skiing. At present Sam is pretending to work at DECKED while training to qualify for the 2022 Olympics and will be guiding for a visually impaired "Nerdic" skier at the very same games.
SHAUN MUSTON
Engineer
Shaun is a diehard fan of the best (Denver Bronco's) and worst (Alabama) teams in football. The father of five kids (ranging from learning to read to learning to drive) is an avid procreator, fisherman and craft beer connoisseur. Sneaking a round of golf in when he can is one of his favorite pastimes. His second home is the little league field where he's typically found shouting lines from The Bad News Bears to young, impressionable children. As an Army brat, he popped out in Omaha but lived in 7 states before putting down roots in Detroit, go Red Wings!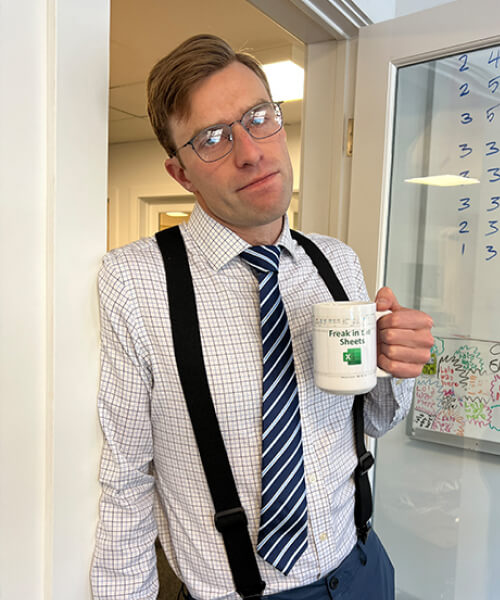 SPENCER DAHL
VP Product, Director Finance
Spencer is the only student in the history of Harvard to complete an MBA from a ski resort, a beach, the backseat of a rental car, and a Miami dance club – setting numerous World Excel Spreadsheet records along the way. Equipped with the longest job title at DECKED, this handsome bugger was born and raised in a blueblood enclave at sea level, but don't let that fool you. Spencer is as at home among the ivy rubbing elbows at a country club as he is on high altitude death hikes and rolling into seedy mountain town bars with a shotski tucked under his arm. He's single ladies! A surprising blend of civilized and blue-collar, Spencer learned how to use power tools in under 48 hours (wherein we learned he does indeed have a Venn diagram tramp stamp).
STEPHANIE NILES
Technical Development Manager
As a leading influencer on Tik Tok who focuses on her fondness for warm soggy bread, the WSU Cougars and other dank, wet foods, it wasn't an easy road to the top for Stephanie. With an allergy to dairy and a fear of large, inanimate underwater objects like rocks, she had to persevere through her early years as a default vegan who could never watch all of "Titanic" starring LDC. Stephanie was born in Hong Kong, learned to add and subtract in Shanghai, and realized that Huskies have more fun while living in the Seattle area. Interesting factoids: Stephanie has beat Mario 3 over ten times and her favorite hallmark holiday is Halloween although scary things, well, scare her.
STEVE BROWN
Manufacturing Engineer
With a solid fear of tornado's and swimming naked over deep water (bathophobia), Steve is not afraid of the wind or drawing a hot bath on a cold night. Born and bred in Defiance, OH he's got a penchant for Chevy Nova's, operating heavy equipment, a buttery chardonnay, as well as crappie fishing (the only guy we know who doesn't like good fishing). A enginerd to the core, but still quite fond of the living world, Steve has managed a piranha breeding business as well as probed the depths of human reasoning. If he's not hacking iron or shining his 200m dash gold medal from high school you can find him trying to fix something that broke.
SYD HAFER
Service Team Manager
Syd Hafer was born and raised in Idaho and has callouses on her hands from reeling in fat ol' trout to prove it. If you have trouble breathing, want to know the standings and odds of any basketball bracket, or need a trivia answers to anything related to The Office, Syd's your girl. She has put her BS in Respiratory Therapy to good use at DECKED: keeping customers calm and her co-workers calmer. Syd's a master of satire and sarcasm, an accomplished cat whisperer, and will hands-down smoke you in any ball sport (yes, even cricket). In her spare time, Syd can be found baking dinosaur-shaped cookies, taking your money in card games, or teaching her daughter Brennyn how to count those cards.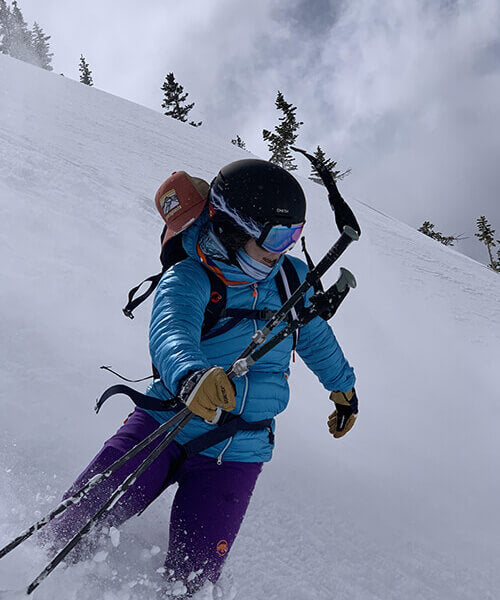 TAYLOR HAYES
Director of Financial Reporting
Taylor keeps the Idaho Vandal pride strong at DECKED, and as a native of the potato state, she doesn't leave a lot on the table when it's time to get after it. Aside from a strong attraction to sake bombs and comfy sweatpants, she's kind of a hard core outdoorsy sorta gal. When she's not mountain biking, backcountry snow sliding, or dancing through the mountain tulips in her yoga pants, you can find her celebrating her favorite holiday, March Madness (one day she might even crack the top 10 in the DECKED MM poll). A bean counter at heart, Taylor's Stockholm Syndrome is very acute wherein she spent 5 years at KPMG and still loves a good audit.
TAYLOR STRALEY
Director of DTC
A died in the wool vegan-a-tarian, the last time Taylor ate meat was on a bet wherein she ate 10 brown drake mayflies winning the chance to cut her fiance's mullet. Born and raised in Ketchum it's no surprise that her animal skills include raising 4 Nigerian dwarf goats and believing she can communicate with her black lab, Maude. We hired Taylor because though she didn't know her ass from her elbow when it came to digital marketing, she really loved Excel and numbers which was all we were looking for. Her education makes you understand why she loves coming to work at DECKED with degrees in Spanish/bus/human physiology from U of O and a masters in health administration from University of Washington. Her list of likes include among other things: red wine, garbanzo beans and crossfit.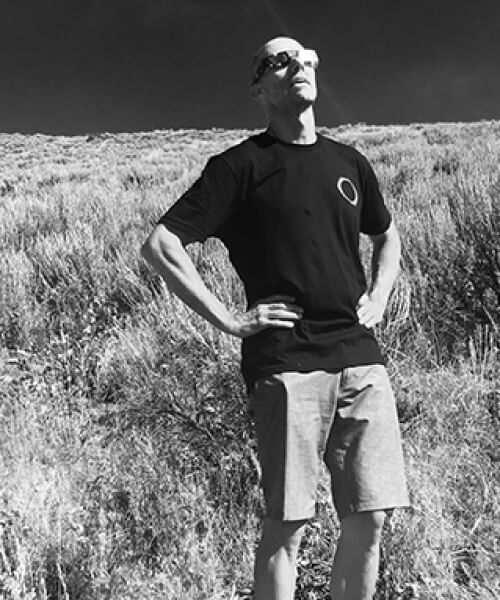 TIM INCH
Customer & Dealer Service
Tim grew up on the mean streets of Brentwood, CA. When not trying to "learn" to surf, he was grooving on the snowy winter slopes. After a small stint getting locked up abroad (have you seen the show?) Tim made his way back to Ketchum where he now truly appreciates the peace and quiet of living in a small town. When not spending time outdoors on foot, by bike or on skis he aspires to be a rock and roll hero and sites his main influences as Spinal Tap and the jazz flute stylings of Ron Burgundy. His motto? "Stay classy and turn it up to eleven!"
TRAVIS MCDOWELL
Regional Sales Manager
If you were to say that wearing flip flops or Crocs with Wranglers was just plain wrong, you'd be right. Until you met Travis on a sales floor, in which case he'd change your mind and you'd change your wardrobe. In his spare time he plays as a B-role actor in C-role films but always brings his A-plomb in a variety of roles – ranging from bitter sales clerk to spandex-curious new road biker. Hailing from Asheville, NC it is said he likes banjo music, purty mouths, and bootleg moonshine. Parents get excited, Travis leads a Boy Scout troop.