Truck Tool Box by DECKED
Truck Tool Box by DECKED
---
---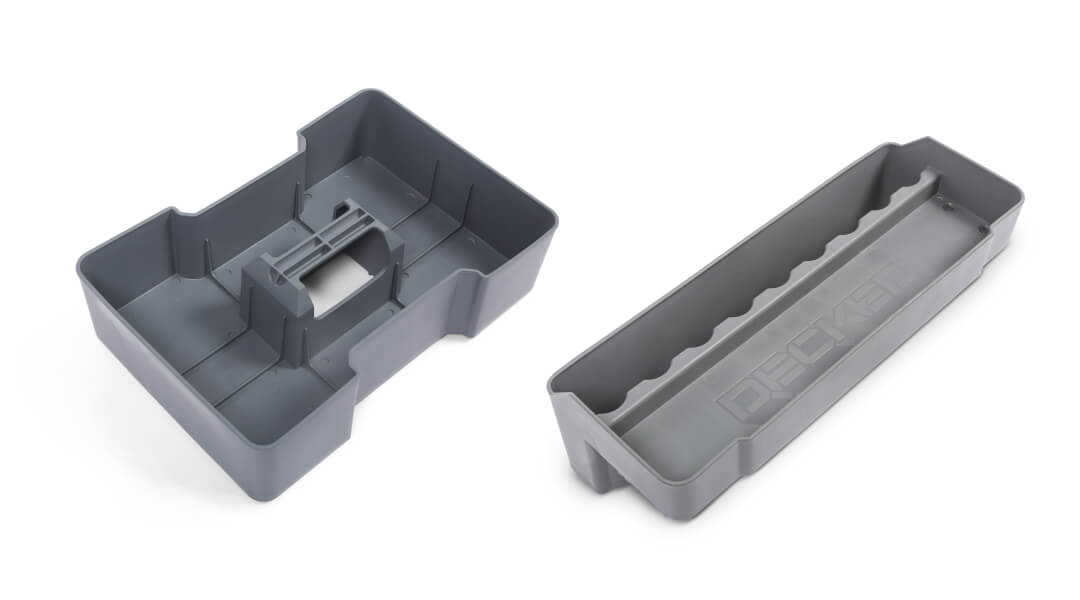 Accessory Pack Included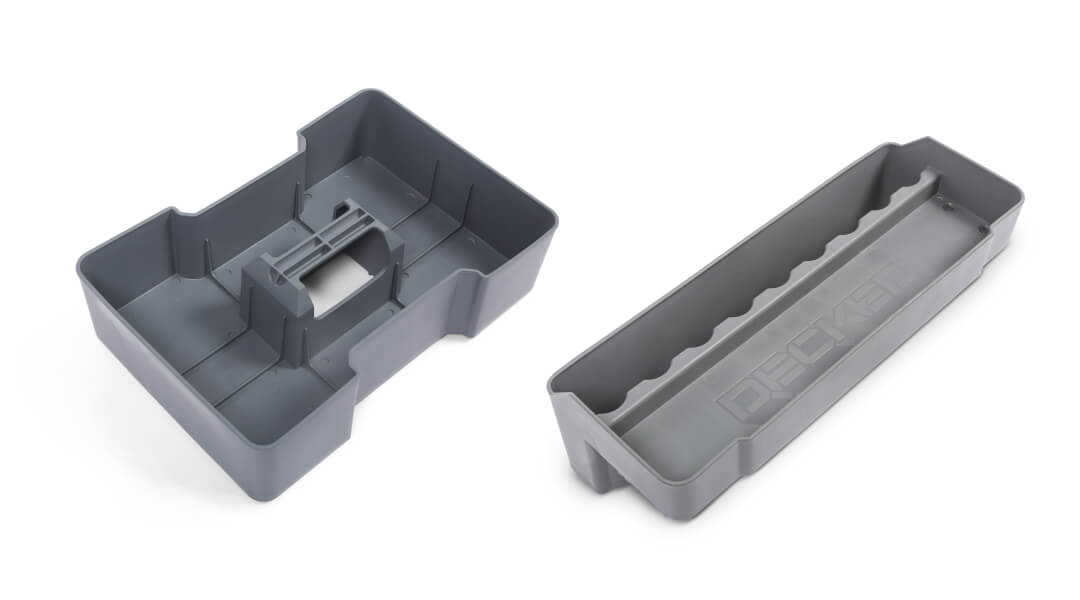 Accessories included with the purchase of this Tool Box:
Tool Box Tray
Super Snack Tray
The Tool Box That Changed The Game
100%
Waterproof
Car washes, hurricanes, tornados, tsunamis? Pfffft…
100%
Dent Proof
Looks new forever. Hammer on it. It won't dent. Ever. No paint to flake off.
800
Beers
That's how many you could pour out into it. But don't abuse alcohol like that.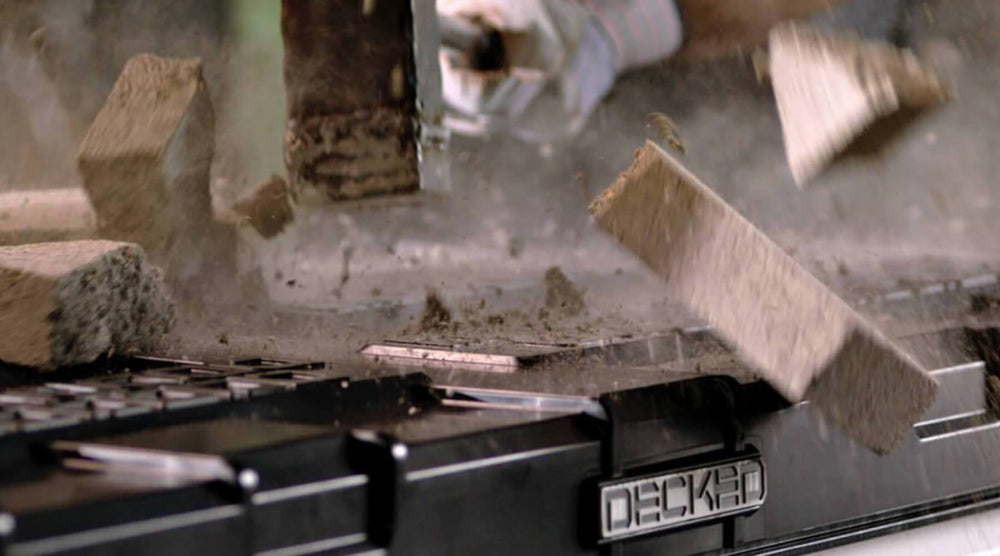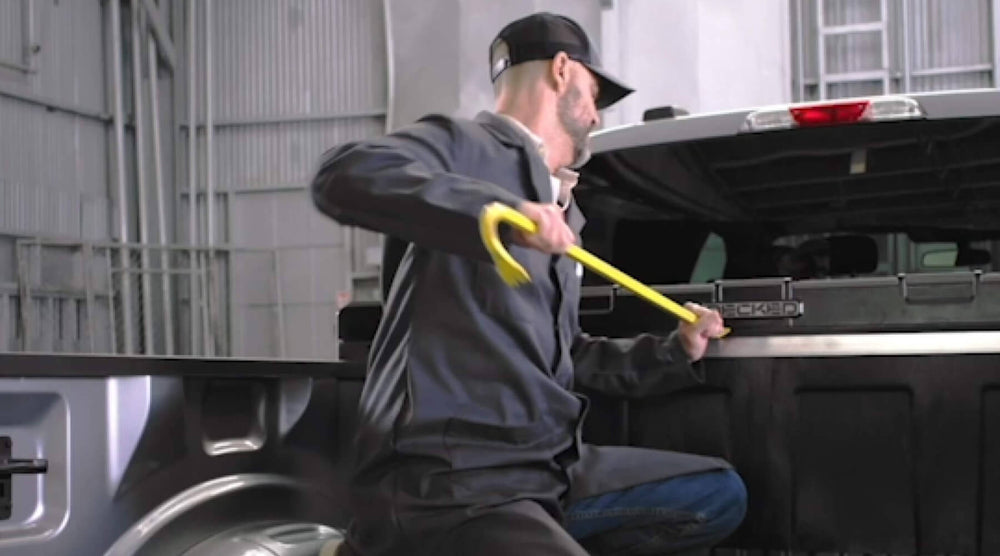 One Tool Box To Rule Them All
The last toolbox you'll ever buy
Totally, and we mean, completely waterproof
Molded polymers that will never rust or corrode 
110% dent and ding proof
100% Weather (& Idiot)- Proof
Engineered, keeps moisture out under harshest conditions
Seamless molded construction; basically hurricane-proof
Lid gasket seals tightly to the tub
Guaranteed tool protection
Insane Security Hated by Thieves
Locks securely with a single driver-side keyed lock
Steel reinforced lid makes forced entry nearly impossible
Attached to the truck bed from inside the Tool Box
Won't even bend under pressure of a crowbar
Payload
Built to take a beating, the Tool Box has a 500 lb dynamic payload rating.
Waterproof Design
Because Mother Nature can be a real mother. Seals up tighter than Tupperware.
Dent and Ding Proof
Beat on this thing all you want and it'll still be looking fresh.
Will Never Rust
HDPE and ASA resins don't corrode. At all. Take that, Rust Belt! 
Modern Look
Your truck called, it wants a box that looks as badass as your truck.
"It is the toughest tool box on the market. All the other tool boxes I've had were very easy to dent and the shock hinges would need to be replaced within the first year. The DECKED Tool Box is indestructible. Top quality."
"I got this tool box for my husband for Christmas and he absolutely LOVES it. Super easy to load up and attach to the truck, plenty of space and just what he needed for everything that used to fill up the back seats."
"This is the only tool box I have found that is tough enough to last longer than my truck. Worth the extra cost."
"One definition of quality is, 'that which meets or exceeds customer expectation.' The entire process of ordering and receiving my truck tool box exceeded my expectations! I love my new truck tool box! It's great to have a secure, watertight place to keep my tools!"
"The DECKED Tool Box has been amazing so far. I've had it on my truck for 3 weeks so far and I've had no complaints so far. Kept my tools dry and safe throughout the recent ice storm and rain also. 110% would recommend buying this tool box."
Build Your
D-cosystem™
"Better together." That's our mantra, big timer. Customize your Tool Box like a boss for just how you use it. If you thought peanut butter and chocolate was a good combo, wait 'til you start building out your D-cosystem™.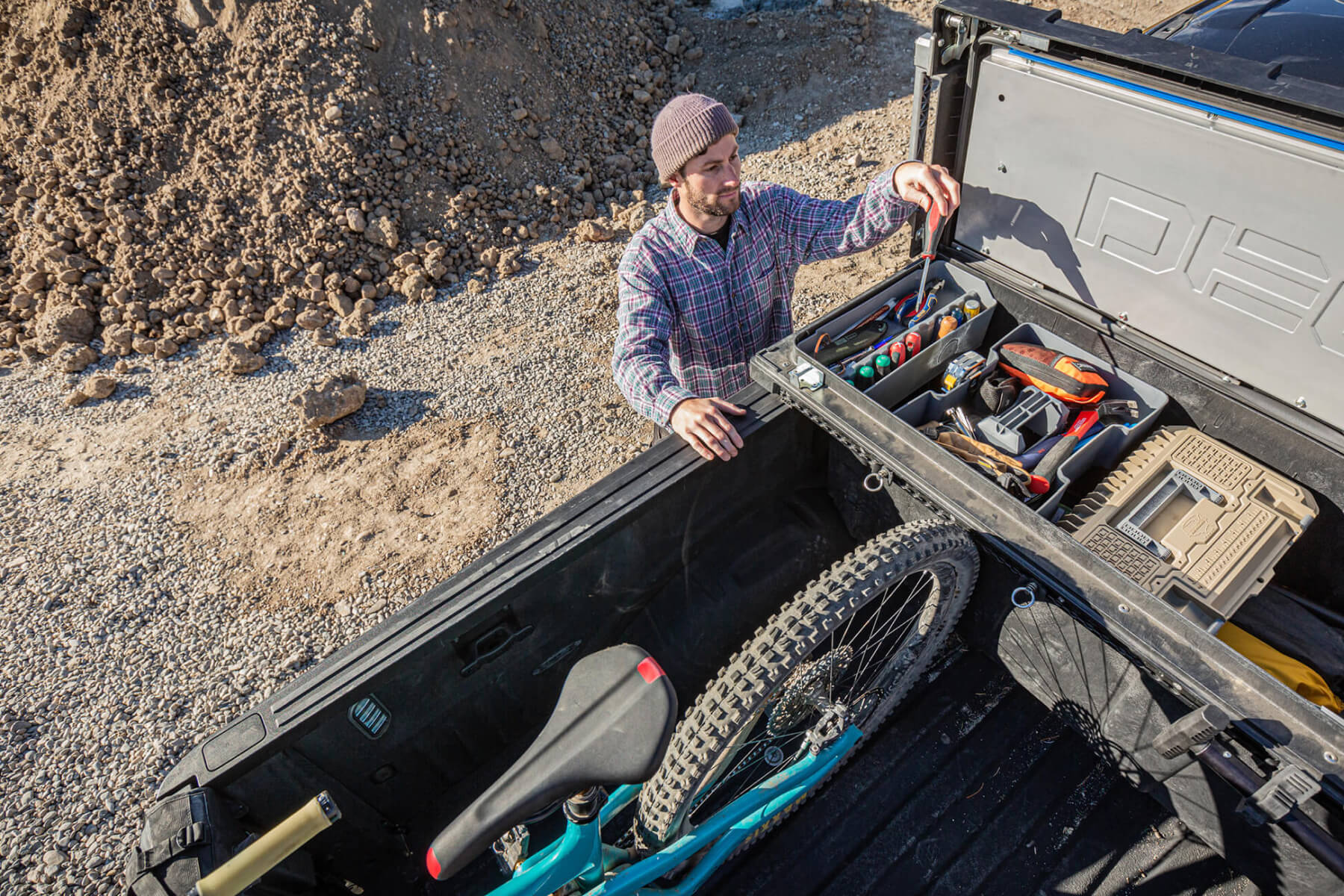 Tech
Specs
Tool Box for
Full Size Truck / No Ladder / Standard
Dimensions and Capacities

Specs:

Volume:

280 L.

Weight:

103 lb.

Payload:

500 lb.

Dimensions:

A (Width):

22 in.

B (Length):

76 in.

C (Height):

20.5 in.

Internal Dimensions:

Width:

17.9 in.

Length:

60 in.

Depth:

17.4 in.
Not Compatible With:

Stepside / Flareside

Bedrug / Drop-in Plastic Bed Liner

Service Body

Carbon Pro Bed

Ford Heritage Edition
FAQ
Have a Question?
You know how they say there's no such thing as a dumb question? Well, they were wrong, but here are some common not-so-dumb ones. Still flummoxed? Contact our customer support.
contact us
The Tool Box will fit in all Full-size trucks that were manufactured between 2001 and now. The Tool Box can work with older trucks if the distance between bed rails is 61.375" - 70.5". This should be the measurement from the left inside bed rail to the right inside bed rail.
The DECKED Tool Box is waterproof. Because it's molded and not welded, you get a seamless lid and tub as well as overbuilt, moisture-repelling, watertight architecture. This is all sealed tightly when closed thanks to an EPDM lid gasket and channel. The contents inside your Tool Box are guaranteed to be protected from the elements, car washes, and other extreme moisture events. If by some freak occurrence you DO get moisture inside your Tool Box, you can drill a small hole in the base of the Tool Box at the provided divot locations. This will allow any standing water from the moisture/condensation to drain without having to remove the Tool Box. Anti-corrosion-treated steel and aluminum hardware make for long-lasting durability.
The DECKED Tool Box hardware will not rust. The hardware and all metal parts of the DECKED Tool Box are coated with rust inhibitors or they're made of stainless steel.
Direct to your doorstep. For free. Doesn't get easier than that. 
What is a DECKED Tool Box made of?

Lid: Steel Reinforced Injection Molded High-Impact Polymer Resin
Base: Injection Molded, Impact Treated High Density Polyethylene
Hardware: Anti-Corrosion Treated Steel and Aluminum
Ladder: 6000 Series Aluminum
How long will it take to install my Tool Box?

5 minutes (comes preassembled).
This product has no reviews yet.