Drawer System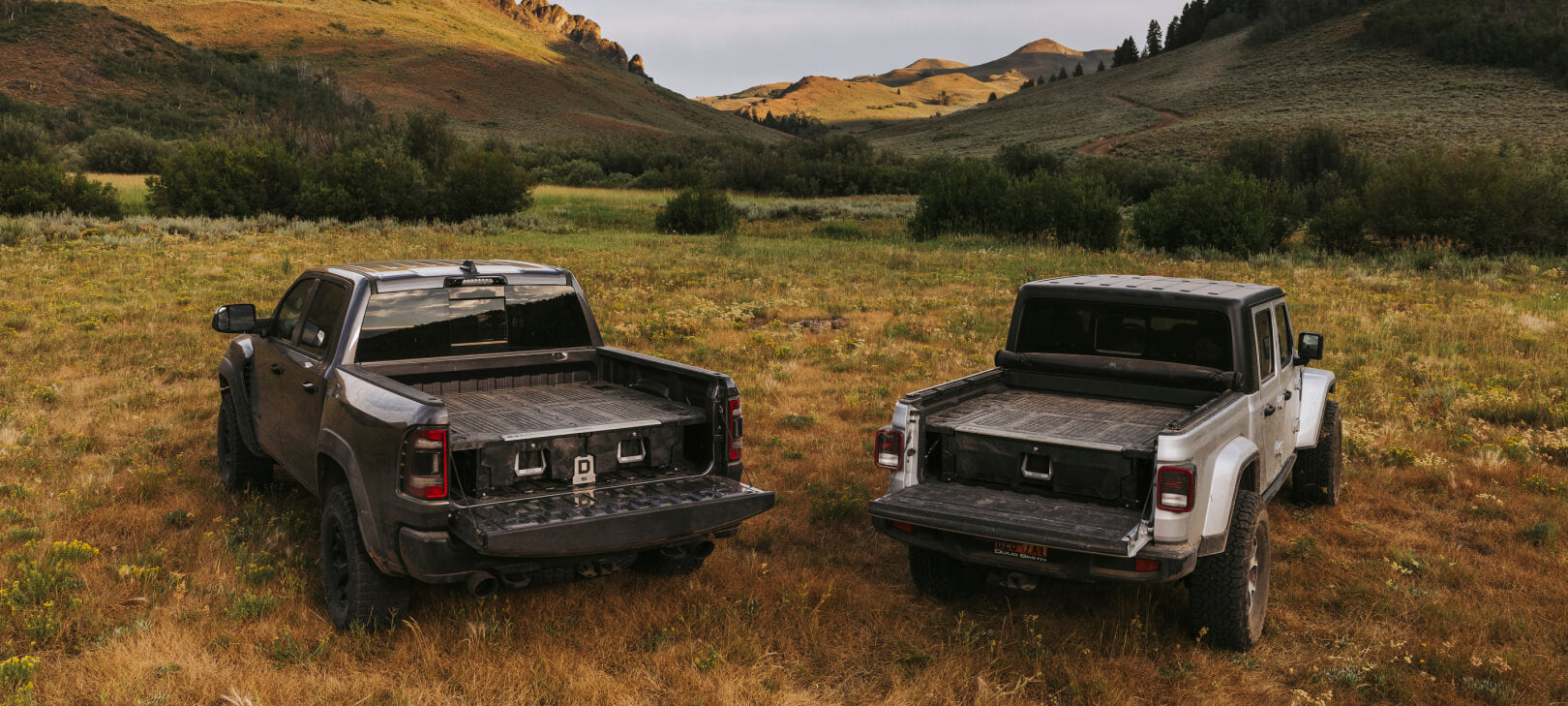 Drawer System
---
---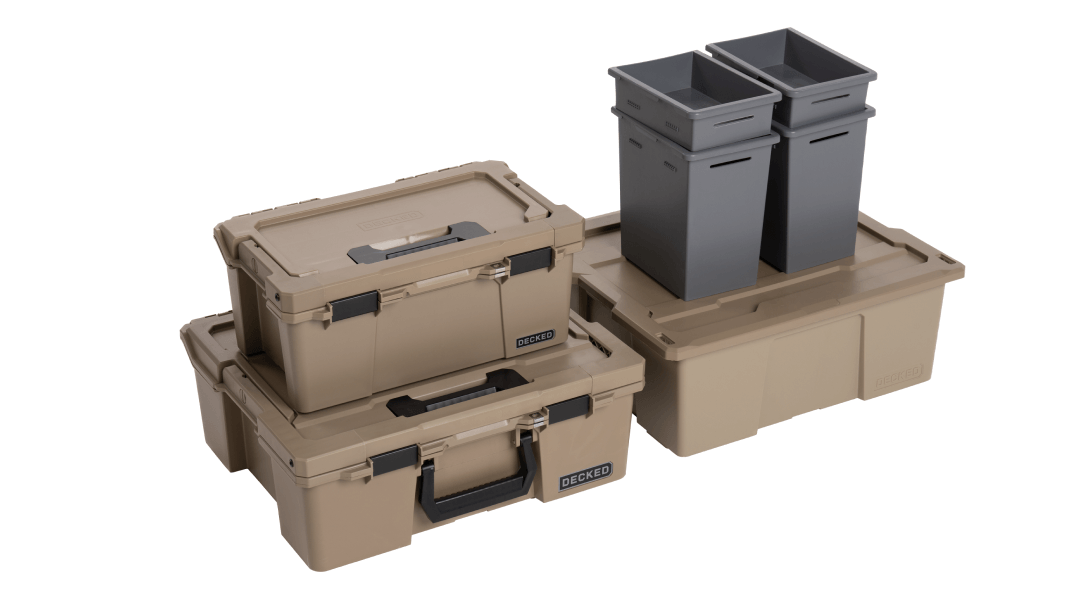 Accessory Pack Included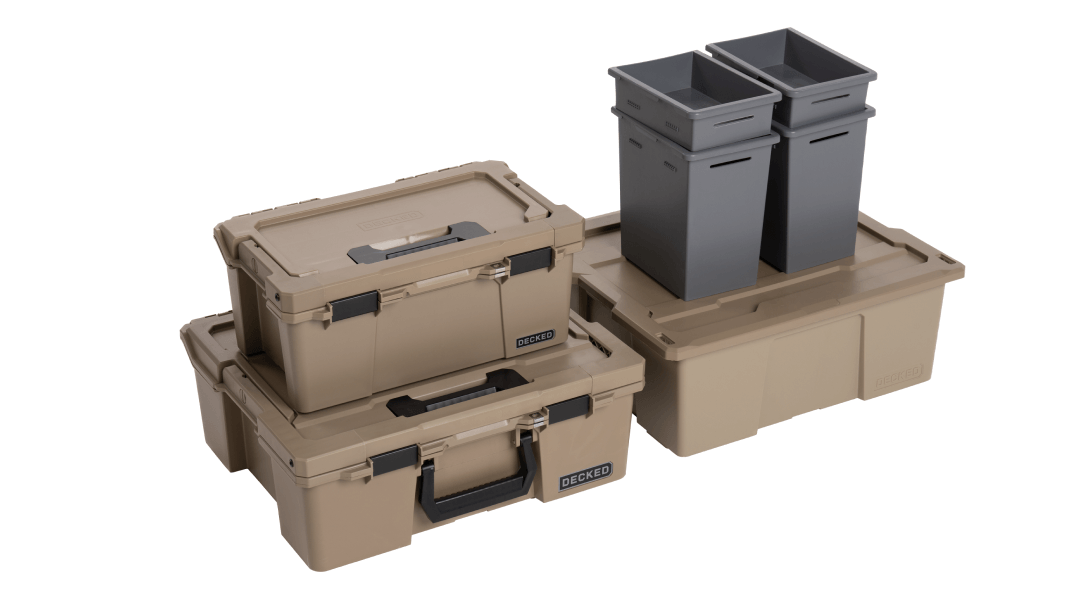 Accessories included with the purchase of this Drawer System:
1x D-co Bin
1x Sixer 16
1x Halfrack 32
4x Stash Bins
4x D-Ring Tie Downs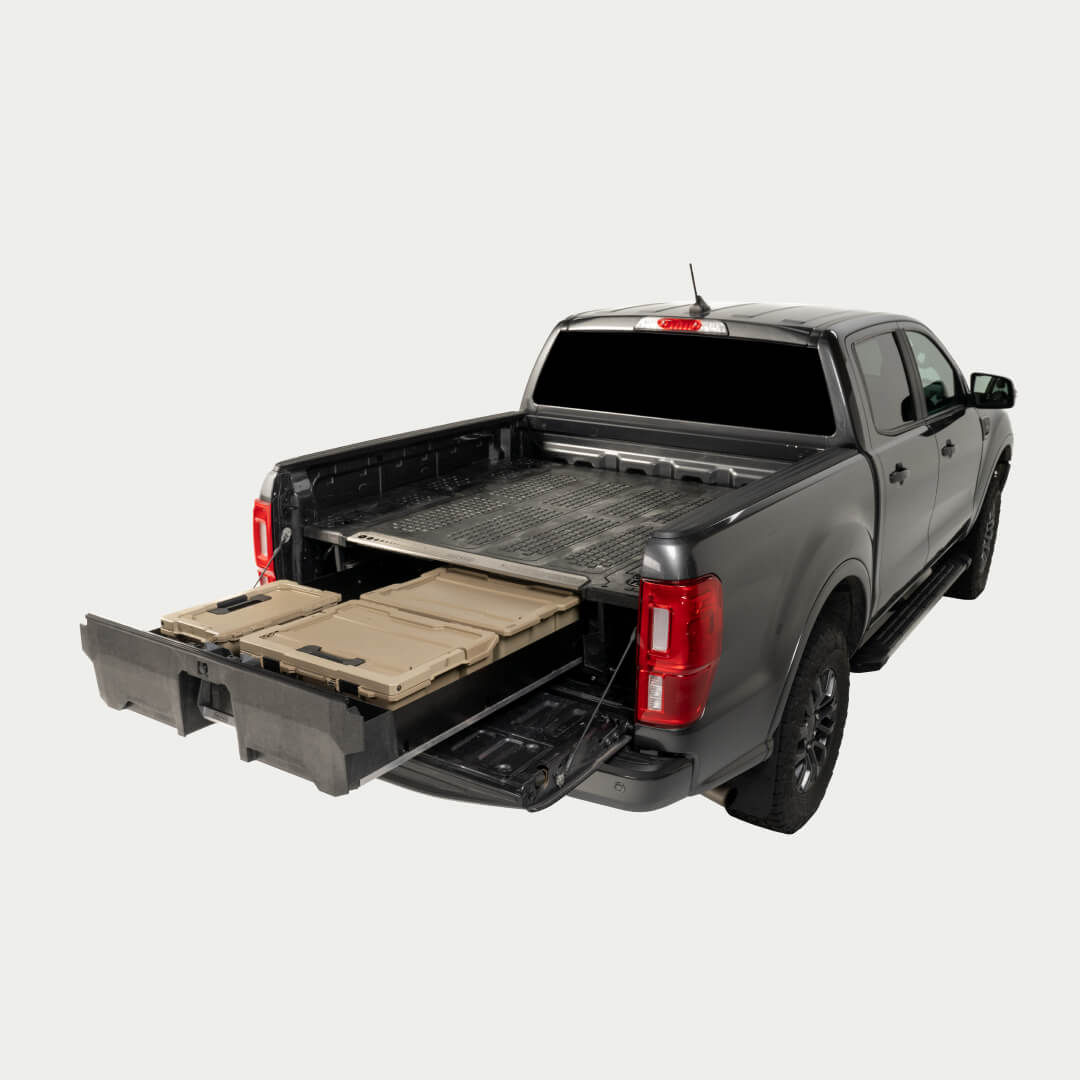 The Deets: Drawer Systems
1000 lb
Payload
No compromises. DECKED has the same payload as your truck.
400 lb
Drawer Capacity
Load it up. Mega Drawer can handle 400 lbs of whatever you got.
200 lb
Product Weight
Heavy in duty, light in weight. Won't impact your truck's payload capacity.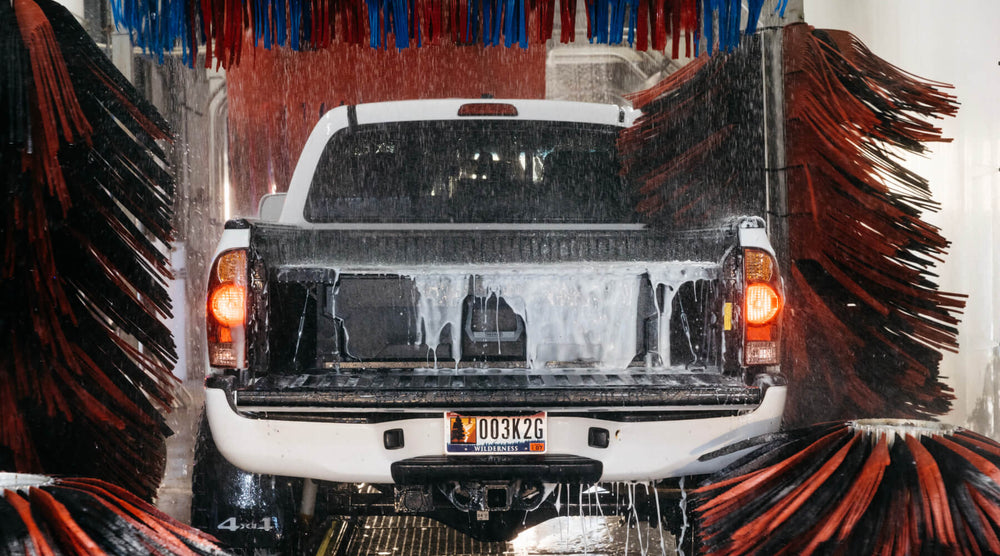 Massive Storage
Full bed-length drawers and side access pass-throughs to the wheel wells offer massive, customizable storage. Almost zero wasted space. Exactly 100% increase in the utility of your truck bed. Midsize standard drawers extend 7" further and Midsize short drawers extend 3" further.
100% Weatherproof
From Acts of God to carwashes to anything from falling from the sky, your tools and gear stay safe and dry.
Work-Ready Payload
High impact resistant polymer resin co-molded to a steel subframe gives you a true 1000lb payload letting you load 'er up and get 'er done.
Secure and Lockable
Out of sight and out of mind. With your tailgate locked, drawers are inaccessible. Add an optional keyed lockset for complete peace of mind.
Built To Roam
Keeps dust and other airborne particulate matter out of your drawers using a protective series of closeout panels so your stuff stays clean and cozy.
Integrated Bed Tie Downs
Four countersunk locations per side. Four 400lb payload rated D-Ring Tie Downs included.
Stash Bins and Pass-Throughs
Unrestricted access to your wheel wells with included waterproof and lockable storage bins.
1000 lb Payload
Load up whatever you got, this thing can handle it. No compromises, tough guy.
Lockable and Secure
When your tailgate is locked, your drawers are inaccessible. Add Drawer Locks for even more peace of mind.
One Drawer with a 400lb payload
When every tool is precious, we give you massive storage for all things big and small.
"It has ruined my life! Now that I'm organized I have way too much time on my hands. No more 'I left the tool at the shop' just so I can go get some mid-morning tacos. I've already lost 15 lbs (my wife thinks I got a girlfriend) it has ruined my reputation as a so-so handyman."
"This is by far the BEST American made product I have ever purchased! The manufactured quality of the product, easy install, the durability, the jealousy factor…"
"Great product to get you organized and keep the crap out of your back seat. Don't question, Buy it now. You won't regret it!!"
"Every. Single. Part. is bulletproof. I use the System everyday, all day. It is waterproof, tool proof, spill proof, clumsy-me proof. I wouldn't be able to do business efficiently without it!"
"I've been wanting a DECKED Drawer System for a long time and finally got it. It was simple to install and I have storage for my tools, outdoor equipment and anything else I need."
Build Your
D-cosystem™
"Better together." that's our mantra, big timer. Customize your Drawer System like a boss for just how you use it. If you thought peanut butter and chocolate was a good combo, wait 'til you start building out your D-cosystem™.
Tech
Specs
Please select a product to view tech specs.
Dimensions and Capacities
New VS Legacy Drawers
Comparison
Weatherproof
Weatherproof+: Improved weather stripping and side closeout panels
Included Accessories
1x D-co Bin, 1x Sixer 16, 1x Halfrack 32, 4x Stash Bins
1x Drawerganizer, 1x D-Box, 2x Drawer Dividers, 1x Crossbox
Tie Downs
Improved integrated, lie-flat Tie-Downs included
Raised Core Trax sold separately
Cases
Legacy Accessory Compatible
Side Drawer Storage
Larger, modular Stash Bins (formerly "Ammo Cans")
FAQ
Have a Question?
You know how they say there's no such thing as a dumb question? Well, they were wrong, but here are some common not-so-dumb ones. Still flummoxed? Contact our customer support.
contact us
Is the Drawer System easy to install or remove?

It's not rocket science but it does take about 2-3 hours. It helps to grab a buddy and a beer, or a few. We provide handy instructions and installation videos if you're the type to follow directions. Once installed, it takes 15 minutes to remove.
How weatherproof/dustproof is a Drawer System?

Rain, hail, sleet, snow, frogs, very small asteroids; if it falls from the sky it can't get into your Drawers. Period. The drawers also keep dust and other airborne particulate matter out using a protective series of closeout panels, keeping your stuff cozy and safe.
Do you ship directly to my house?

Direct to your doorstep. For free. Doesn't get easier than that.
Do you really offer lifetime warranty?

We build the toughest products on the market and we back everything we make with our Limited Lifetime Warranty. Our team will make sure your experience is second to none. Read the fine print here, to find out what exactly is or isn't covered by the DECKED warranty.
What is the DECKED Drawer System made of?

High Density Polyethylene
Stainless Steel Hardware
Cast Aluminum Handles
Galvanized Steel Frame
Will there be a gap between my Drawer System and tailgate?

Depending on vehicle make and model, there may be a gap between the rear edge of the Drawer System and the tailgate of your truck. DECKED Drawers require 4" to be opened and the first 5.5" of the drawer are taken up by the handle cavity and drawer taper, so it is nearly impossible to remove anything from the drawers with the tailgate closed.
This product has no reviews yet.