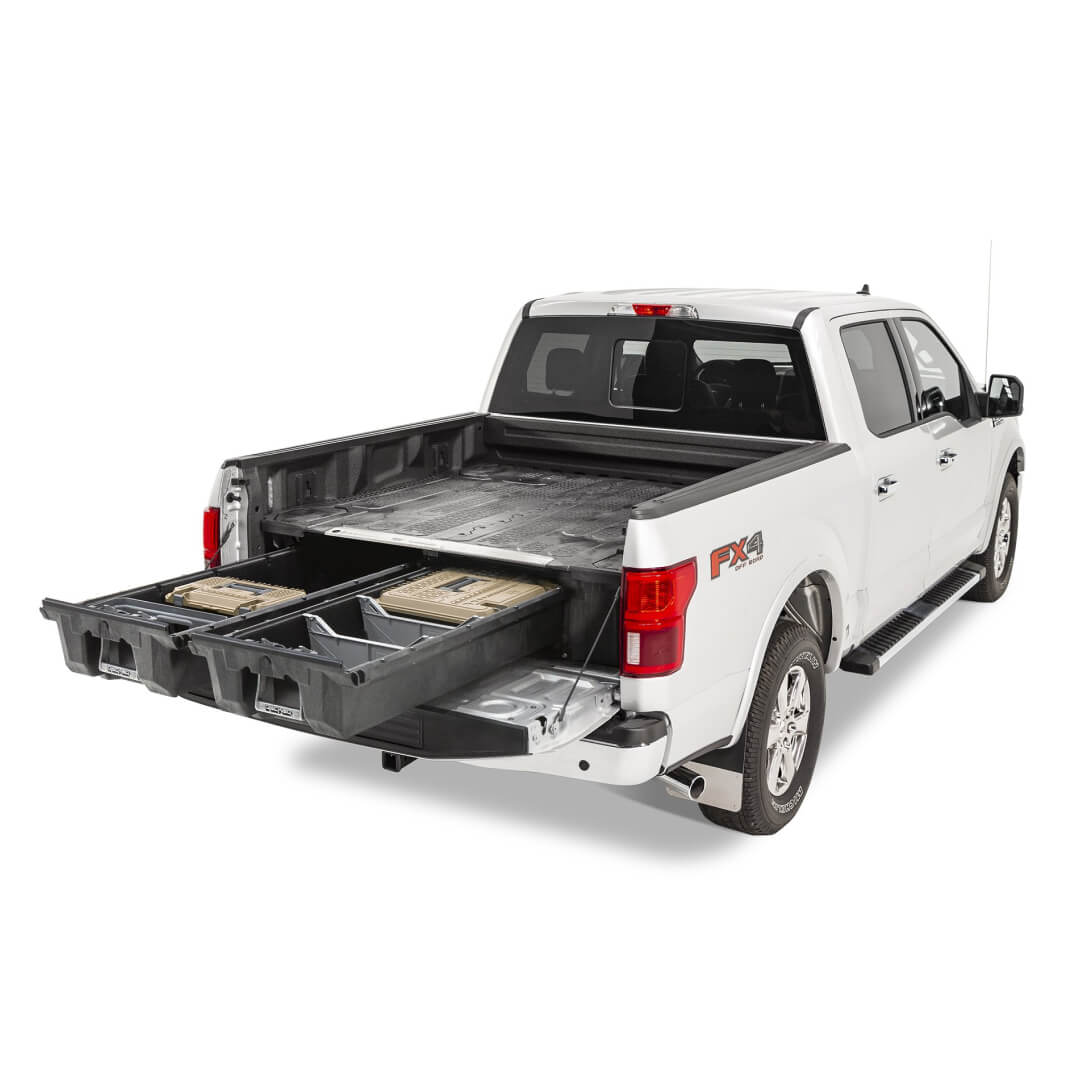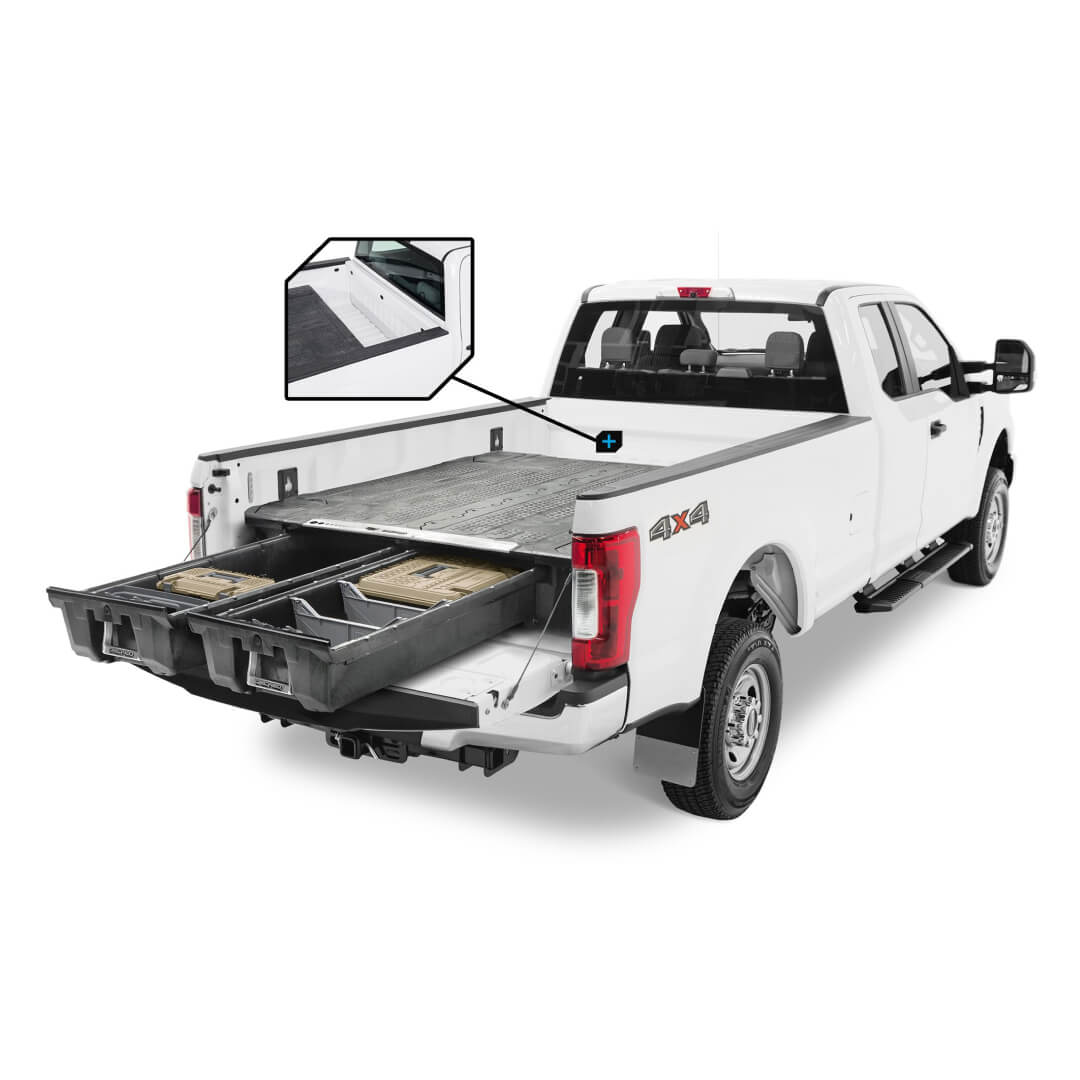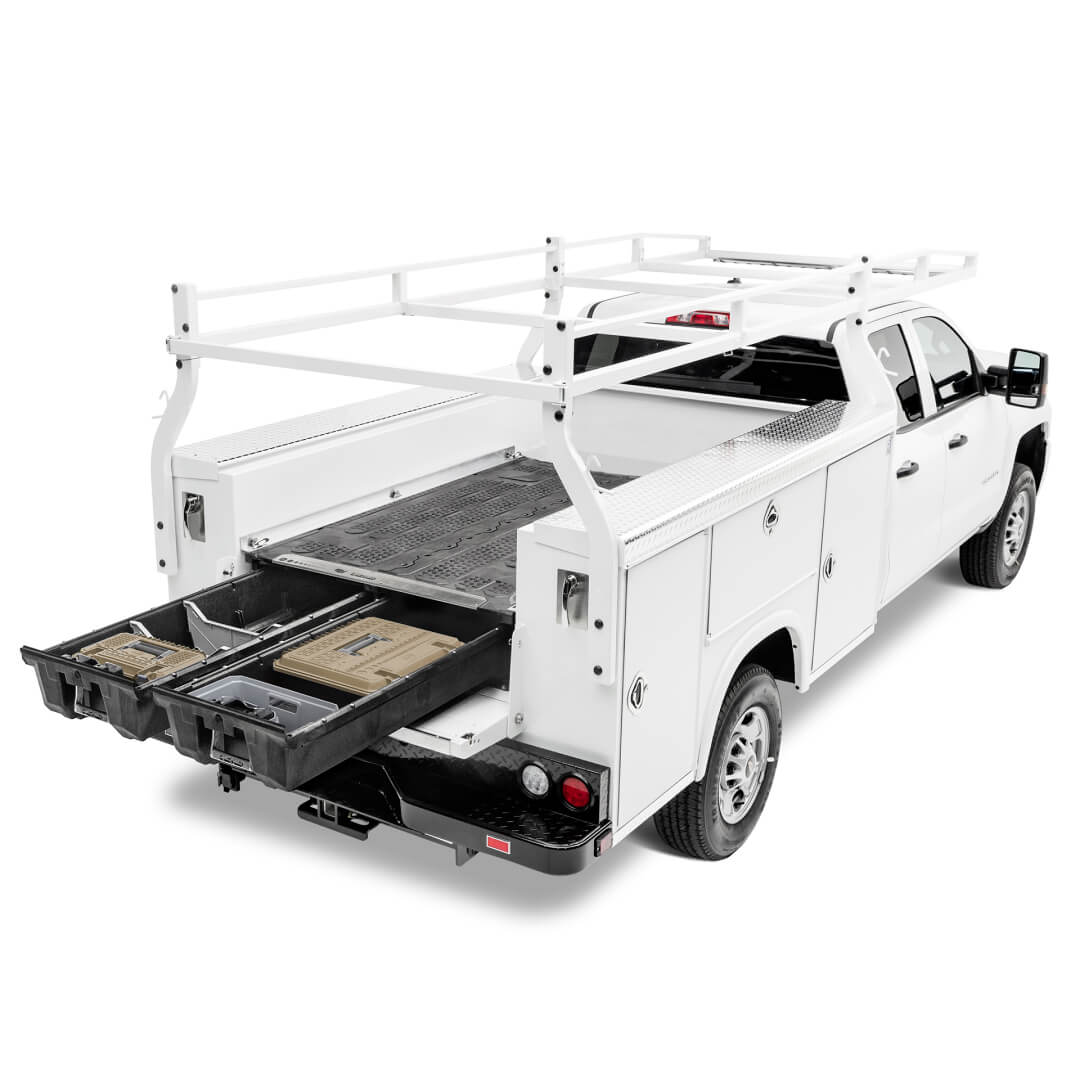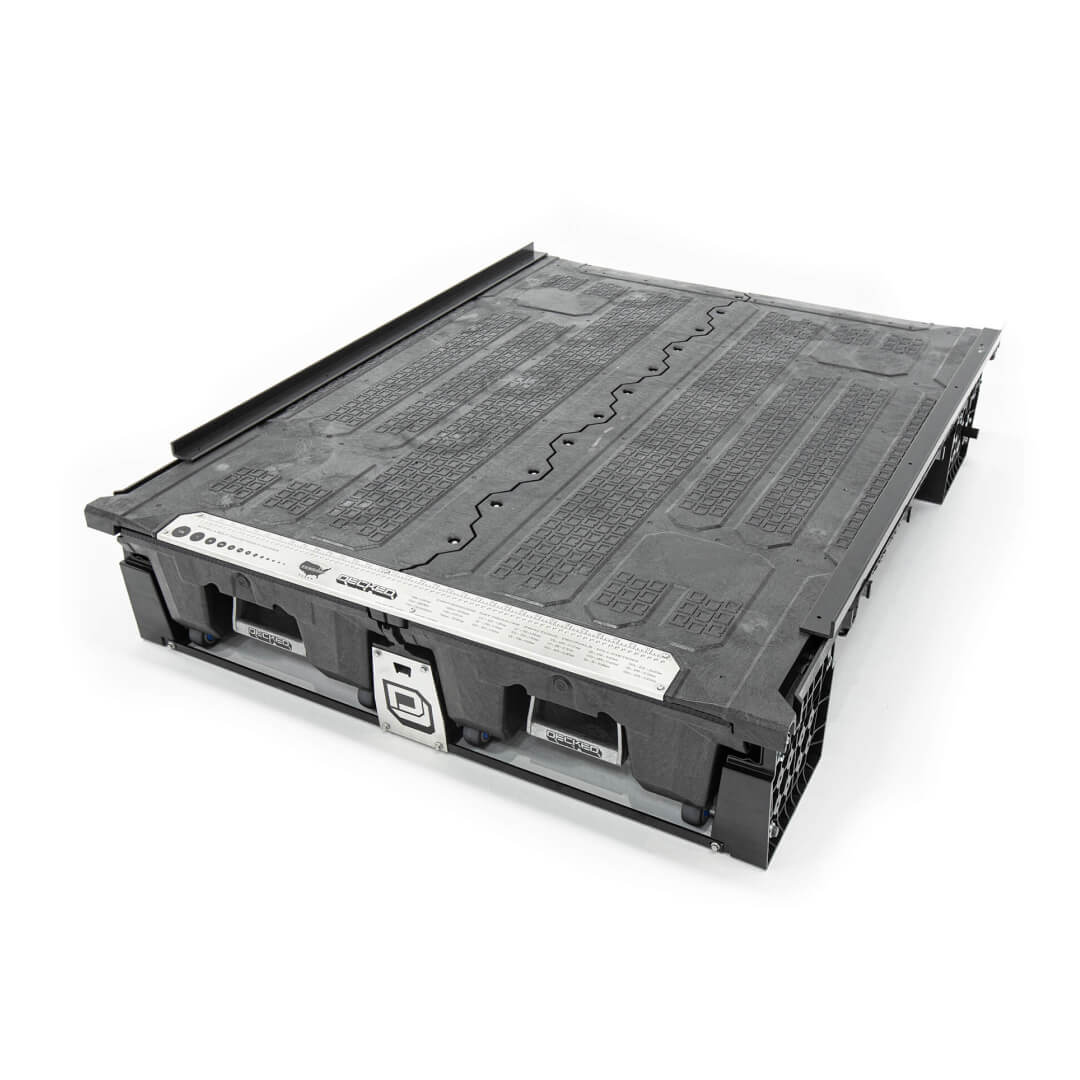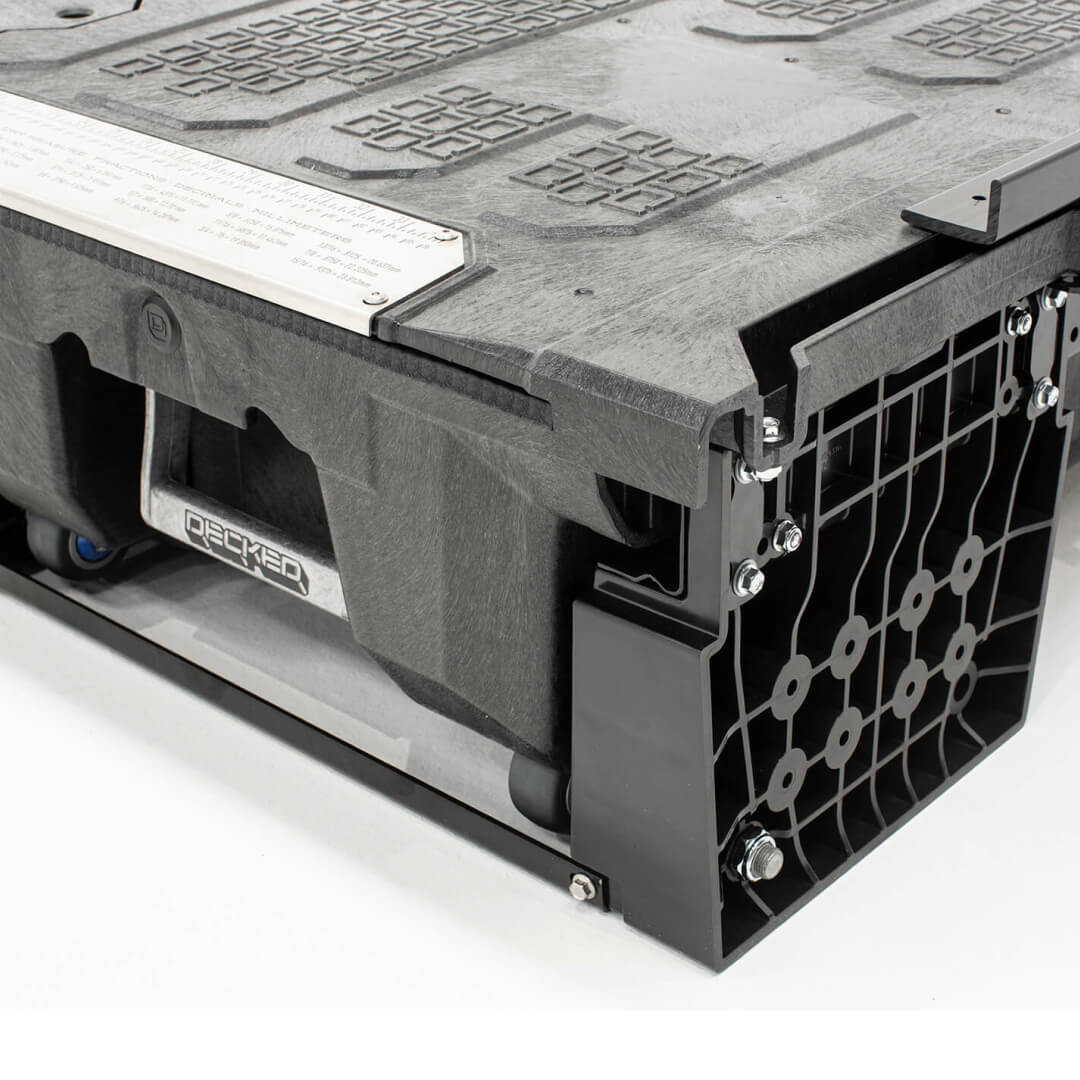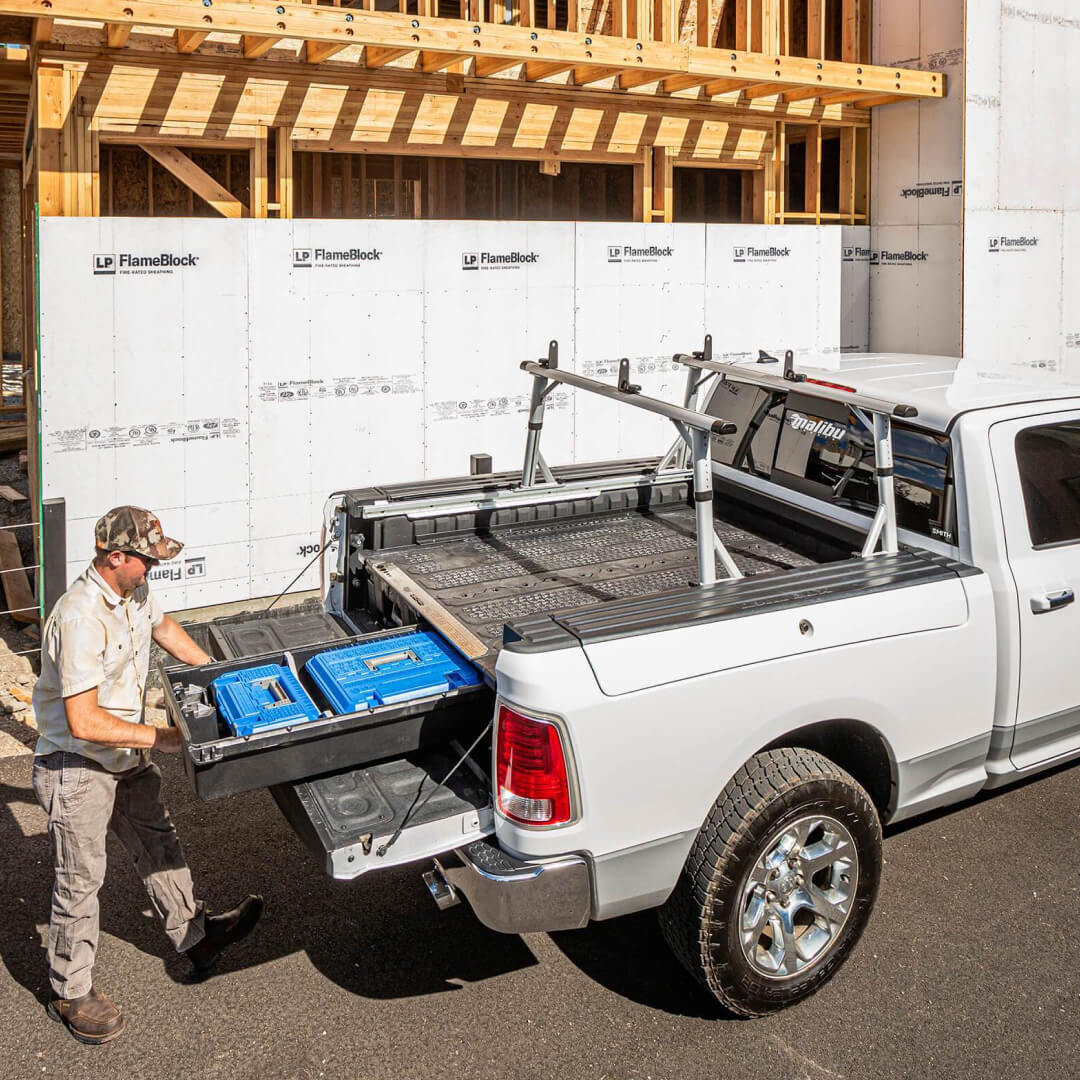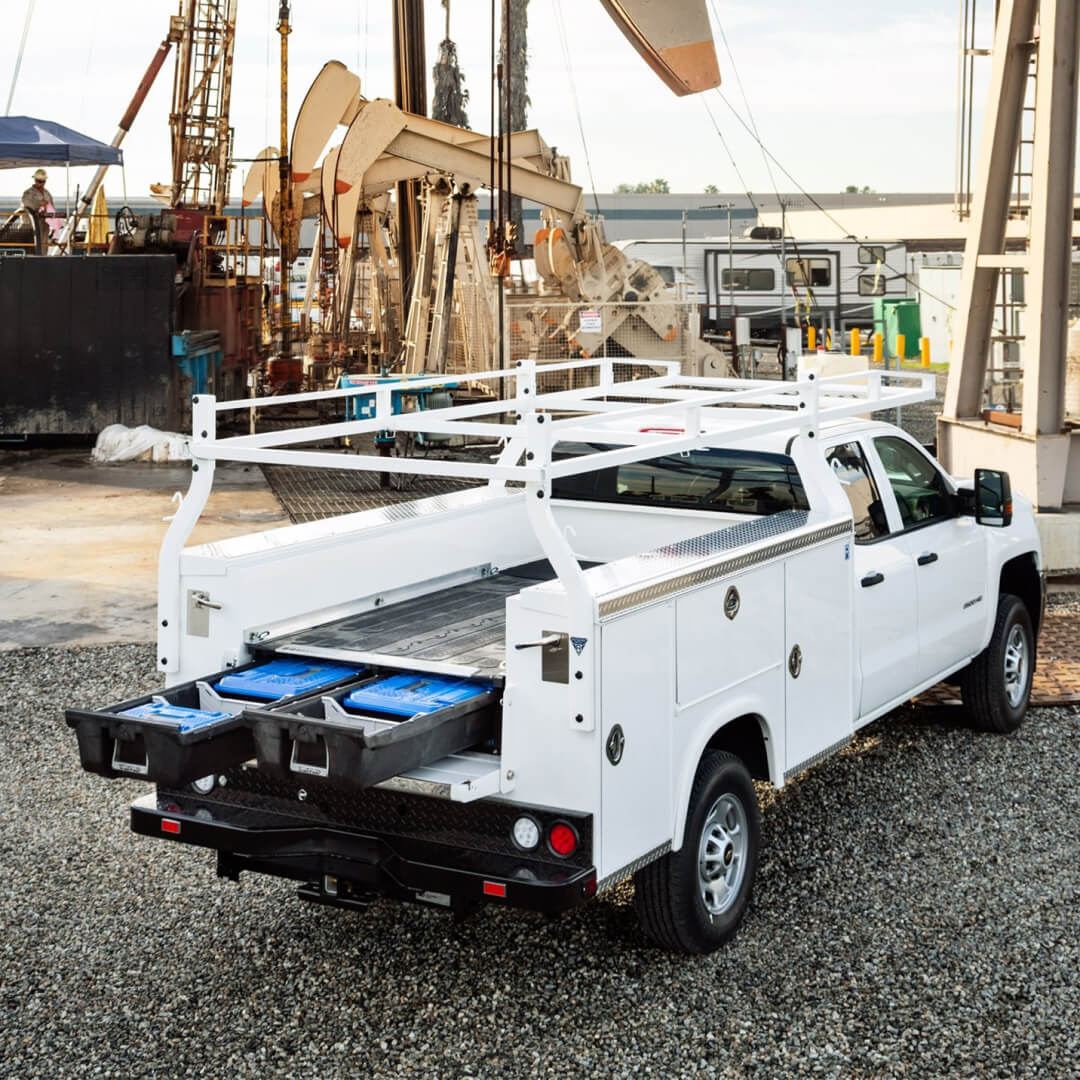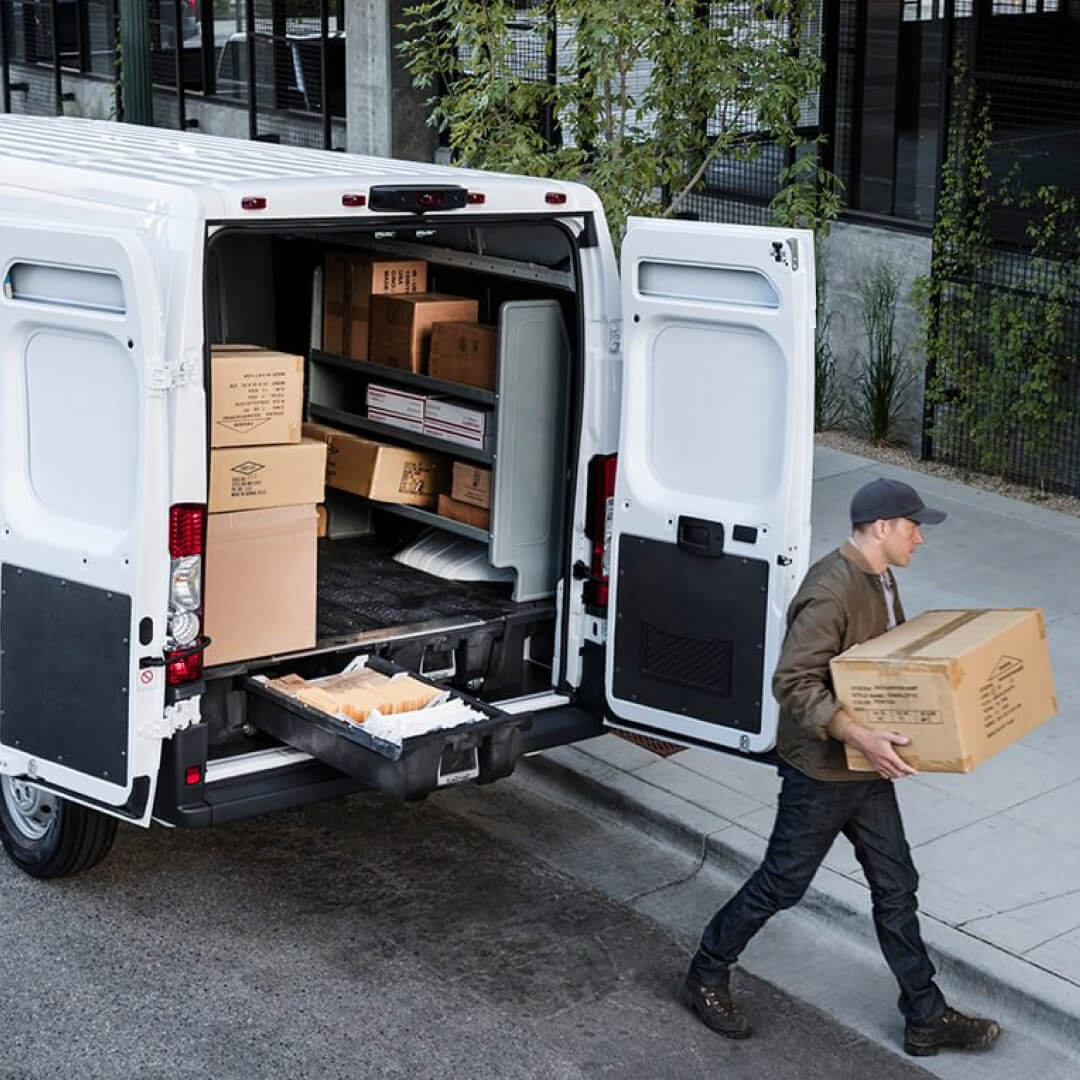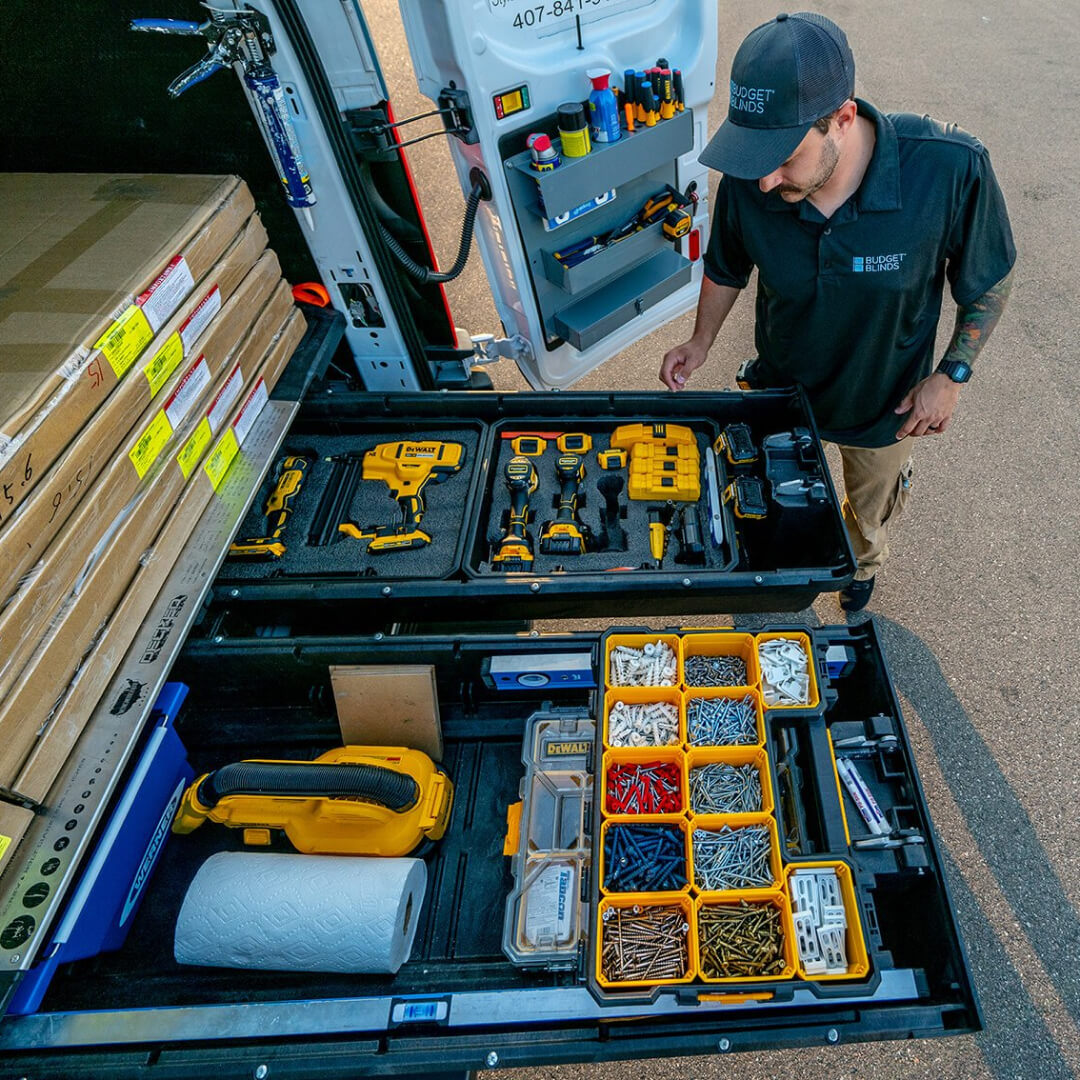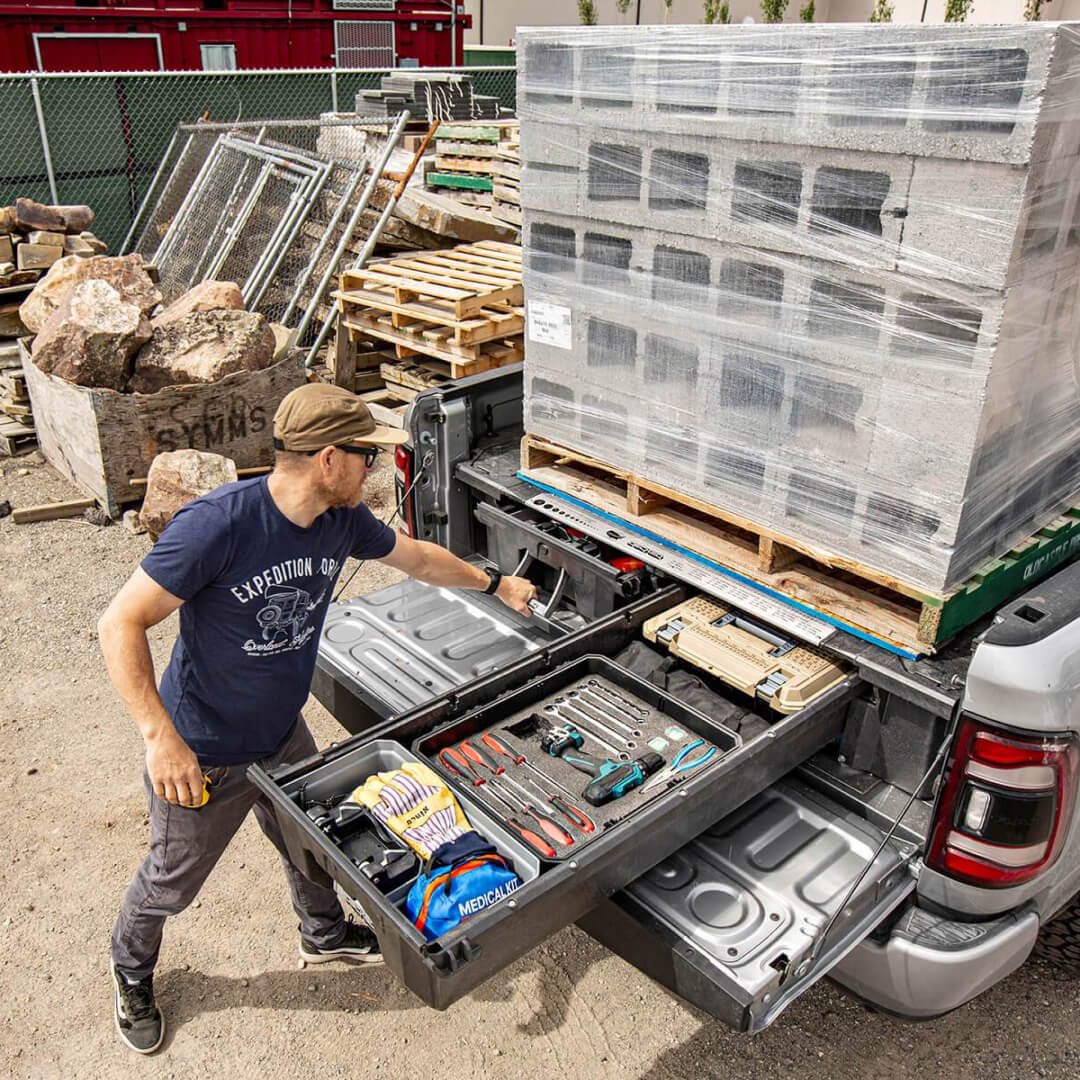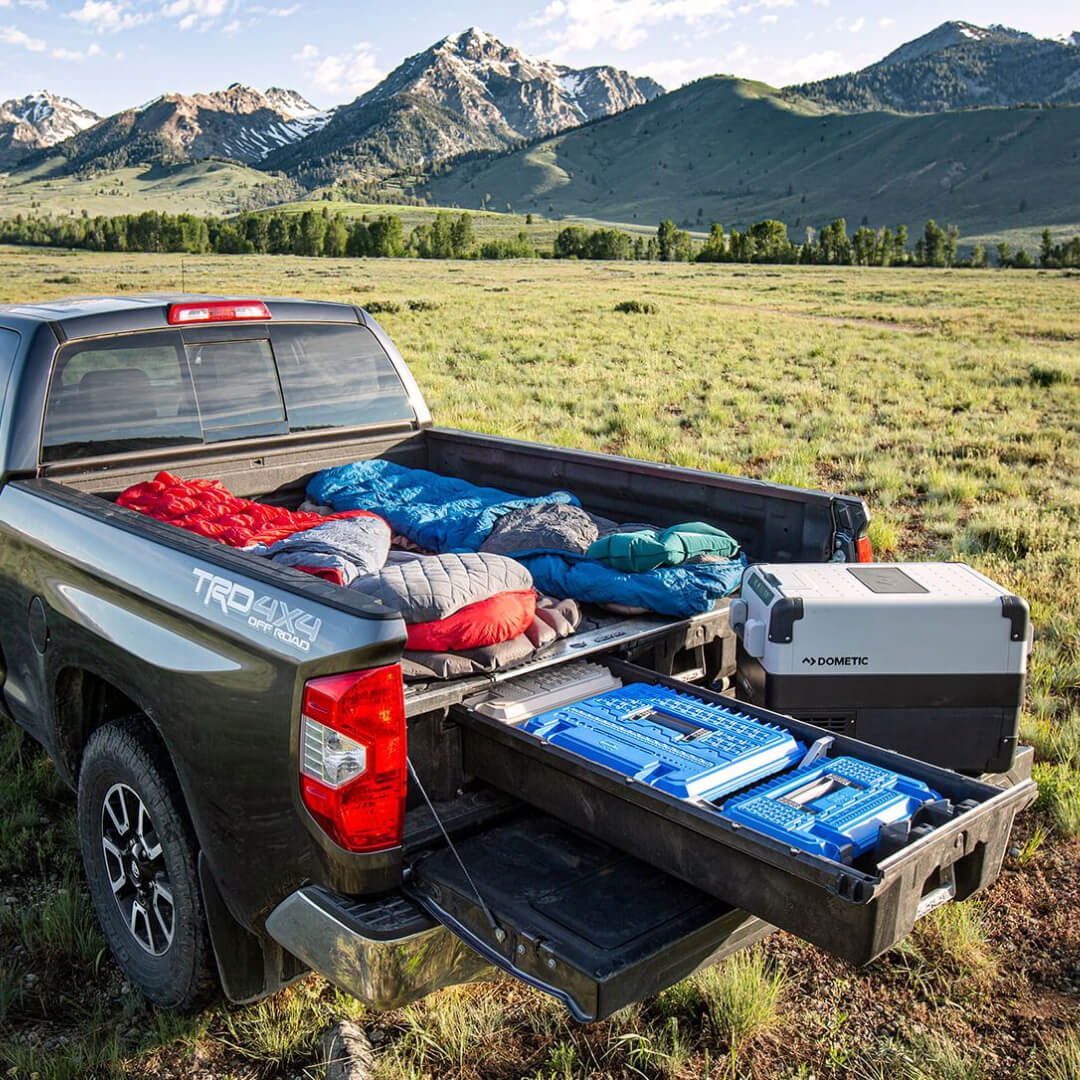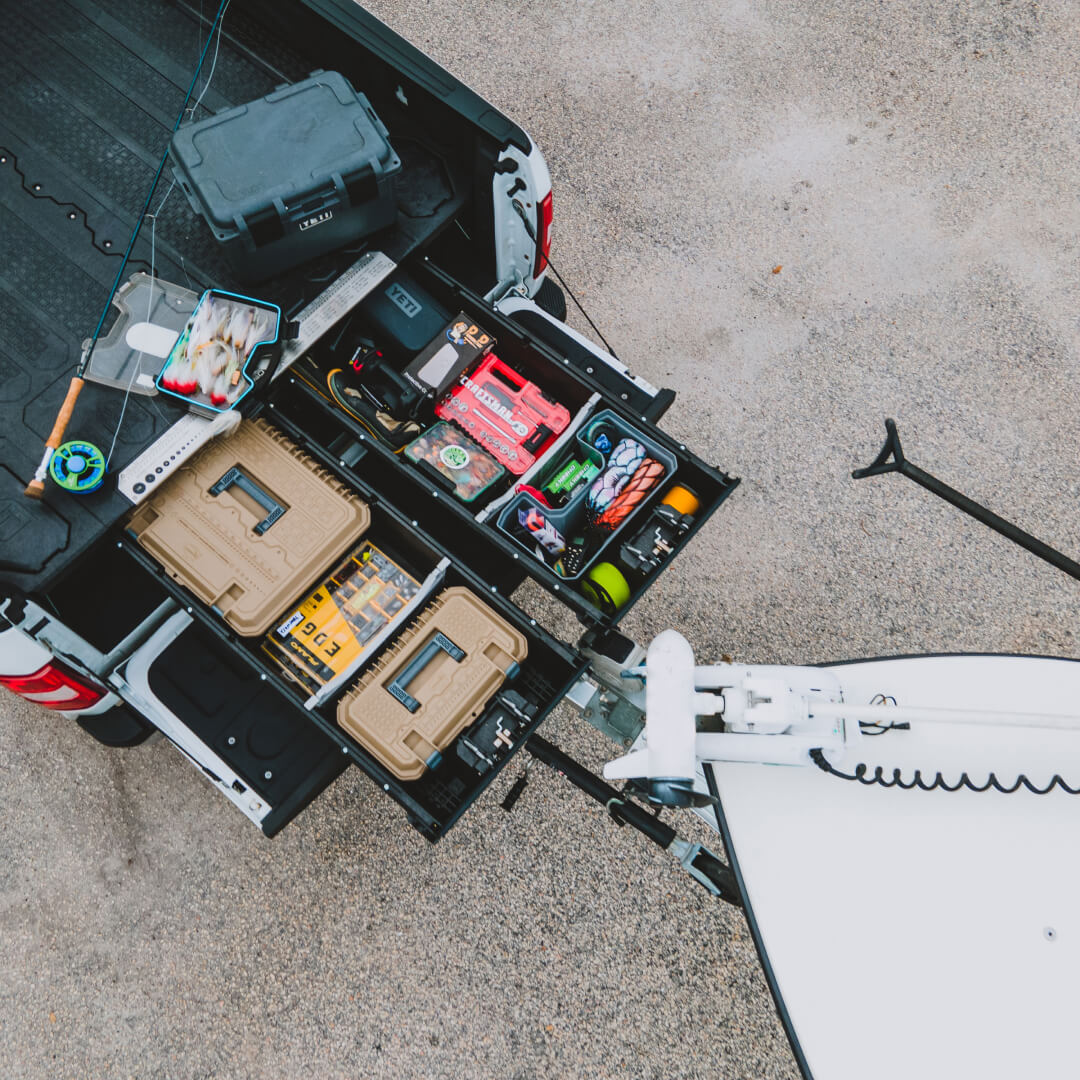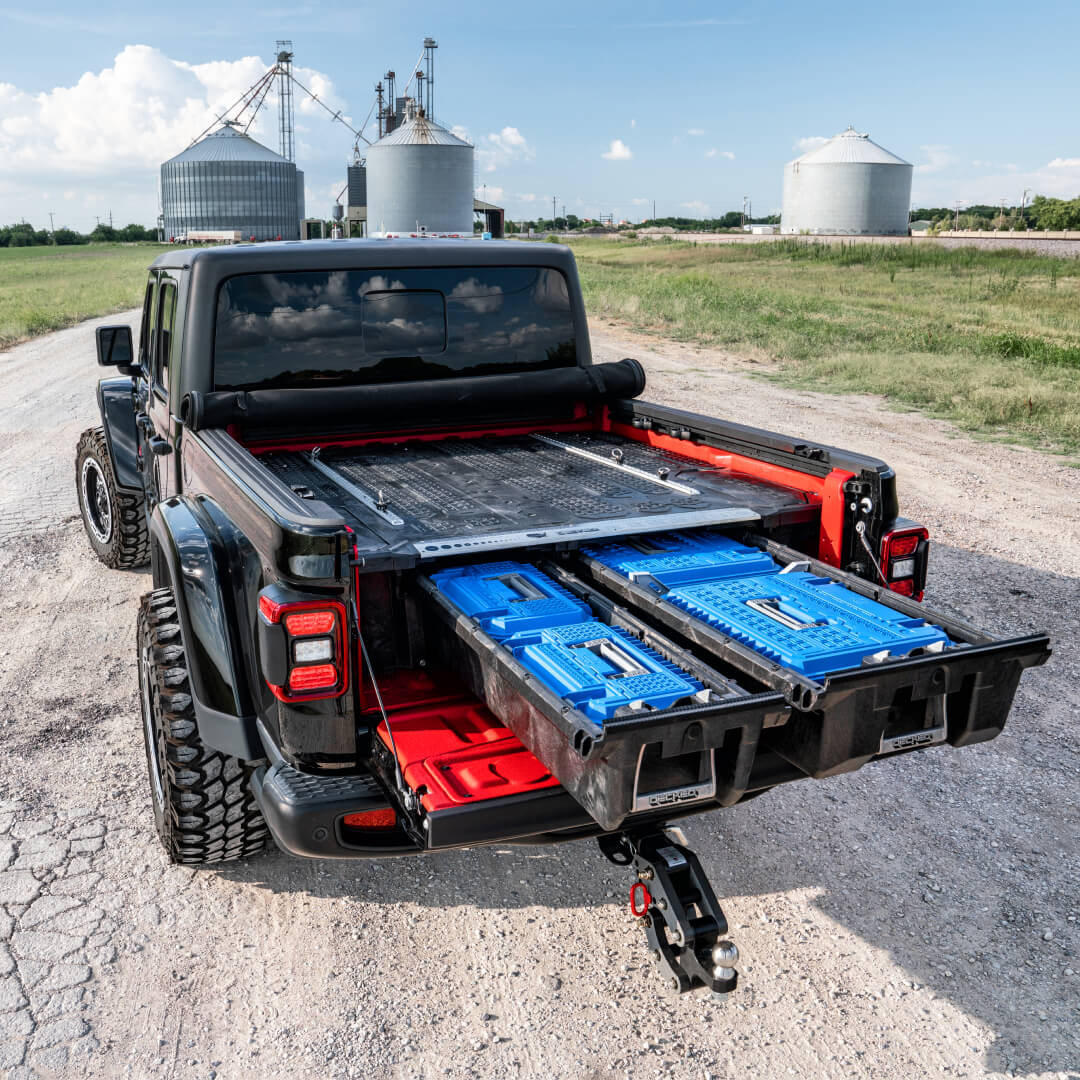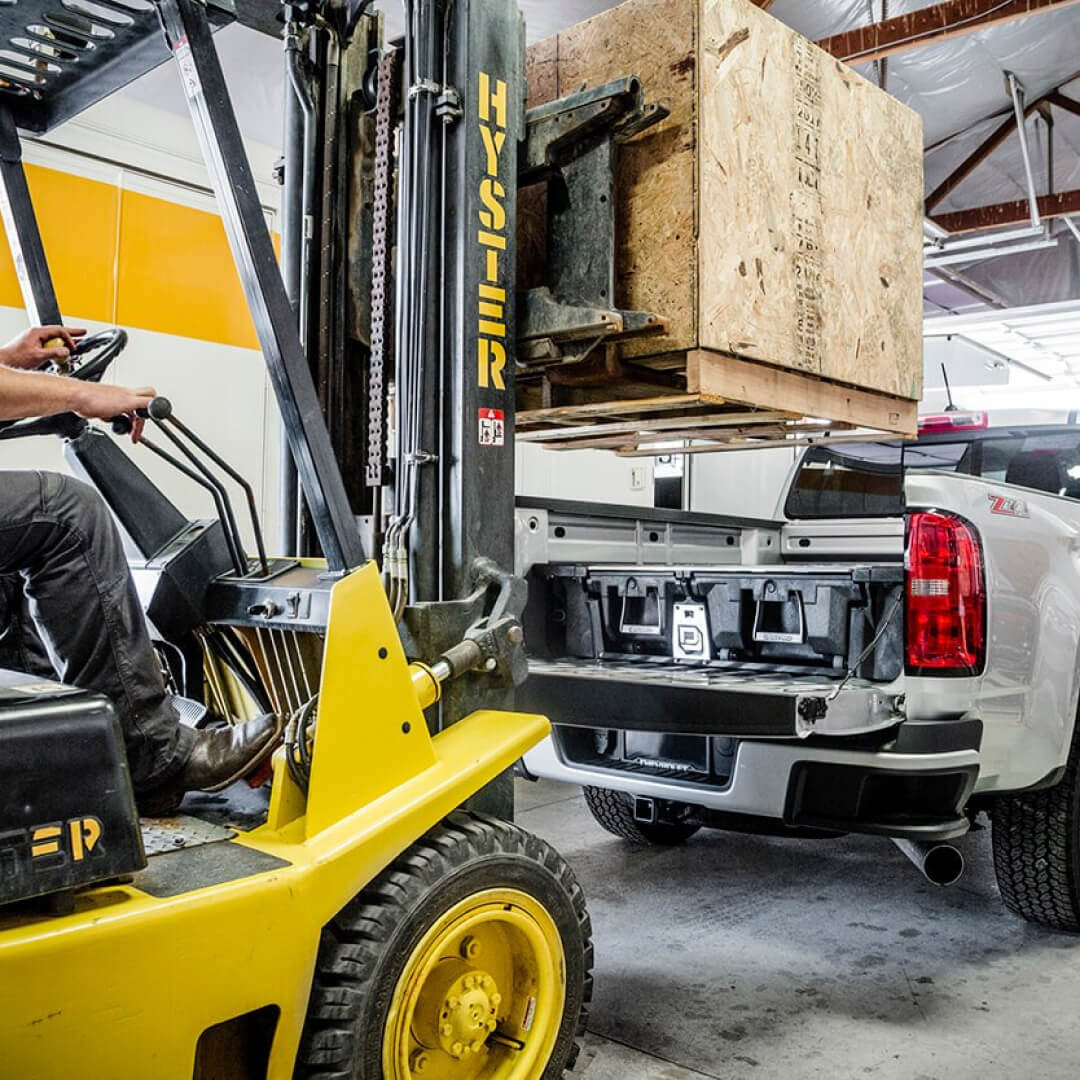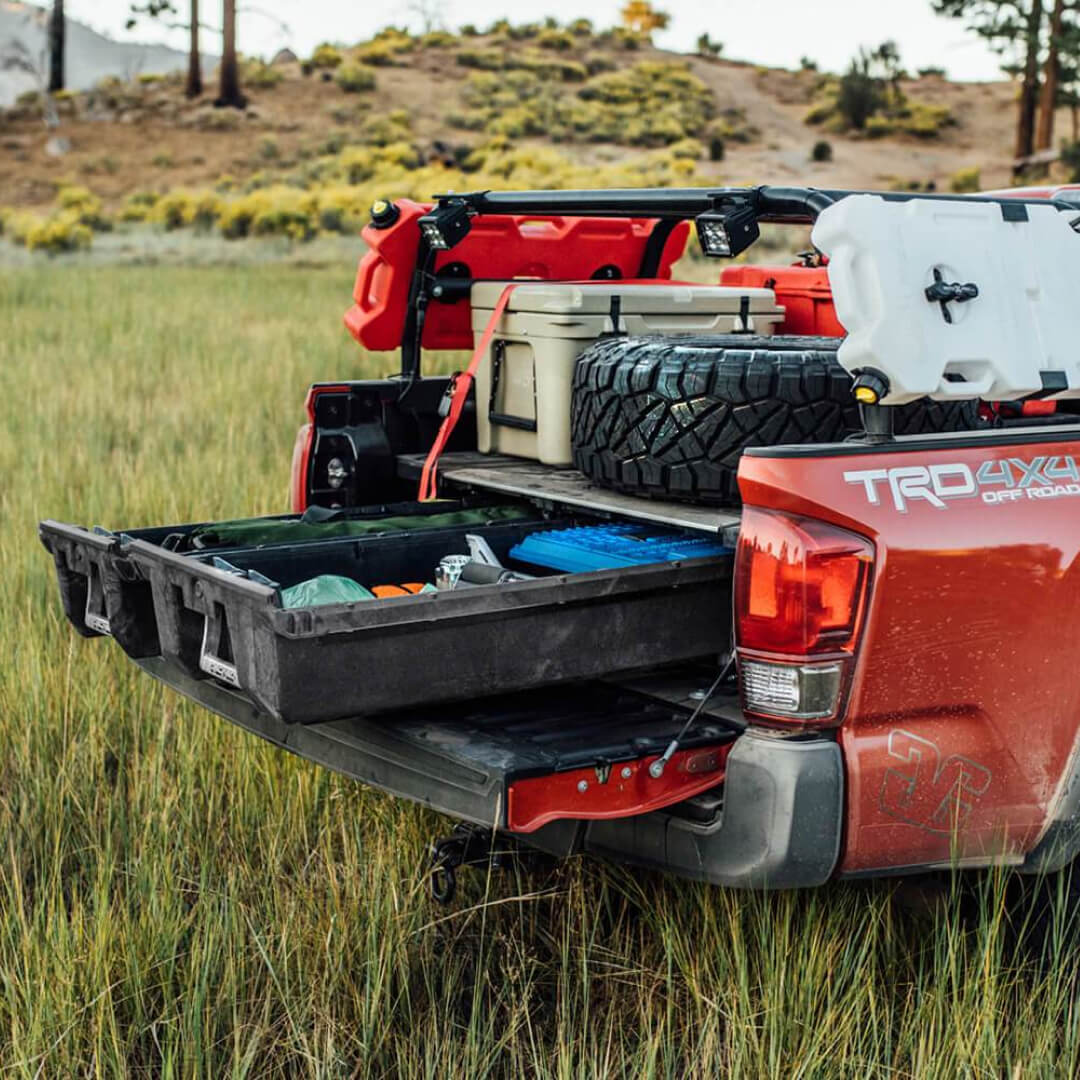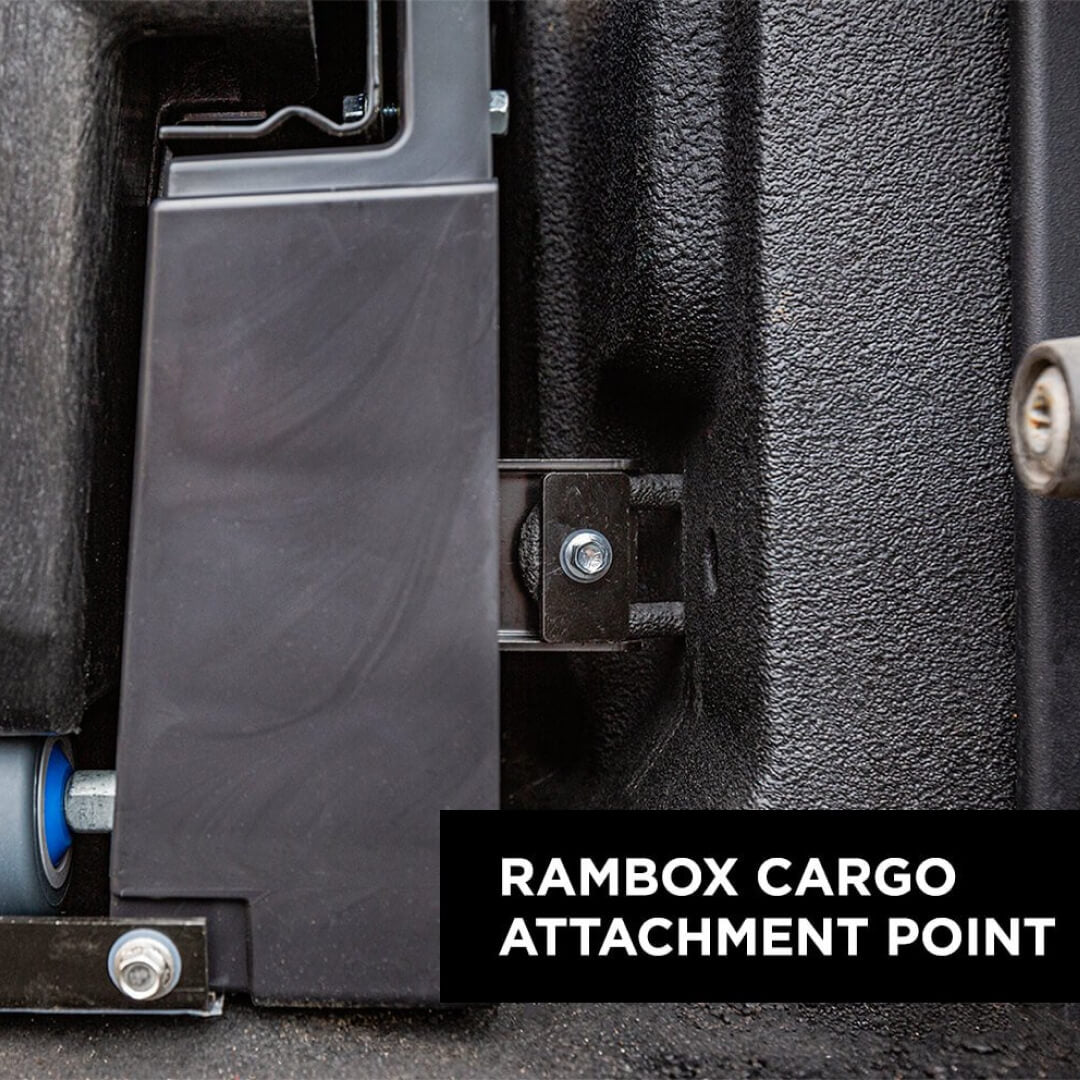 DECKED Drawer System
---
Accessory pack no longer included.
---
Feed Your OCD: Organized Access
Never crawl into your truck bed or van again
Drawers roll out to you at tailgate height
Modular, customizable storage
Save precious time and energy
100% Weather (And Idiot)- Proof
100% protection Mother Nature
Act of God-proof (includes raining cats and dogs)
Steel treated with powerful rust inhibitors
Corrosion-proof HDPE (the cockroach of resins)
Locked Up and Secure
Drawers individually lockable
Out of sight and out of mind
Lock your tailgate for total security
Chuck Norris-tough steel reinforced HDPE construction
2000 lb Payload
System has a true 2,000 lb payload rating
Industrial-grade durability
Full bed-length drawers have a 200 lb payload each
Regardless of load, drawers roll like butter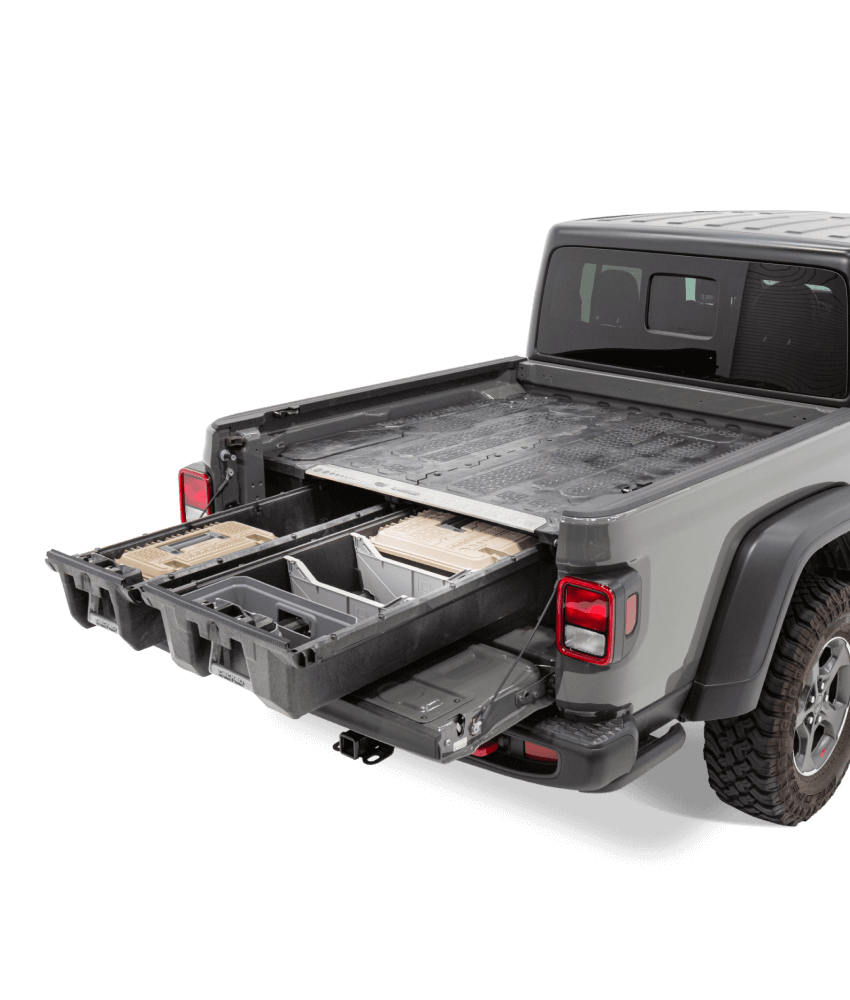 Payload
2,000 lb payload rating on the deck. 200 lb drawer payload capacity each.
Drawers
Full bed-length drawers roll on sealed bearing wheels.
Ammo Can Storage Bins
Corner storage bins. Perfect for tow straps, jumper cables, or crushed empties.
No-Drill Install
Connects to your bed tie downs for a no drill install in most vehicles.
Easy to Install and Remove
Once assembled, takes less than 15 minutes to remove or reinstall.
2000 lb
Payload
No compromises. DECKED has the same payload as your truck.
200 lb
Drawer Capacity
Load em' up. Each drawer can handle 200 lbs of whatever you got.
200 lb
Product Weight
Heavy in duty, light in weight. Won't impact your truck's payload capacity.
"It has ruined my life! Now that I'm organized I have way too much time on my hands. No more 'I left the tool at the shop' just so I can go get some mid-morning tacos. I've already lost 15 lbs (my wife thinks I got a girlfriend) it has ruined my reputation as a so-so handyman."
"This is by far the BEST American made product I have ever purchased! The manufactured quality of the product, easy install, the durability, the jealousy factor…"
"Great product to get you organized and keep the crap out of your back seat. Don't question, Buy it now. You won't regret it!!"
"Every. Single. Part. is bulletproof. I use the System everyday, all day. It is waterproof, tool proof, spill proof, clumsy-me proof. I wouldn't be able to do business efficiently without it!"
"I've been wanting a DECKED Drawer System for a long time and finally got it. It was simple to install and I have storage for my tools, outdoor equipment and anything else I need."
Tech
Specs
Please select a product to view tech specs.
Dimensions and Capacities
FAQ
Have a Question?
You know how they say there's no such thing as a dumb question? Well, they were wrong, but here are some common not-so-dumb ones. Still flummoxed? Contact our customer support.
contact us
Is the Drawer System easy to install? 

It's not rocket science but does take about 2-3 hours. It helps to grab a buddy and a beer or a few. We provide handy instructions and installation videos if you're the type to follow directions.
How weatherproof is the Drawer System?

Anything falling from the sky can't get into your drawers. Period. They're not Tupperware-tight. Airborne particulates, like dust or mist, can make its way into the drawers.
Do you ship directly to my house?

Direct to your doorstep. For free. Doesn't get easier than that.
Do you really offer lifetime warranty?

We build the toughest products on the market and we back everything we make with our Limited Lifetime Warranty. Our team will make sure your experience is second to none. Register your products online to activate.
This product has no reviews yet.