What The Husky Tool Box Website Won't Tell You
Husky has been the bed liner, mud flap, and other truck accessory in-house brand for Home Depot stores for a long time. Many truck owners will already be familiar with the Husky tool box website. Of course, Home Depot has a universally positive view of their own products (we're no different, really). However, there is another side to the story that the one you'll find on the Husky official website. Tool box shoppers, read on!
There are three basic types of Husky tool boxes available today:
Hand tool boxes
These are probably Home Depot's best-selling type of Husky tool box . They are inexpensive and lightly built, but that's what one expects from a mid-range tool box. Most are made of light but good quality plastic, though a few have metal fittings or parts. This includes some smaller pit boxes and wheeled tool boxes that operate essentially like luggage. As with anything today, you get what you pay for. But that said, Husky's hand tool boxes do not generally disappoint.
Combination boxes and tool cabinets
Husky also sells quite a few combo boxes and rolling tool cabinets to the public. Most of their customers are home hobbyists and new professionals who want to invest in a quality tool storage and organization solution, but don't have the money to go with a top-of-the-market option like Snap-On. These are built mostly of steel, and tend to be of good quality. They might not have the lifetime guarantees you'd get with Snap-on, but they serve their purpose quite well.
Husky truck-mounted tool boxes
One of Husky's lesser-known lines are their working vehicle toolboxes . The Husky tool box website gives them the same pride-of-place as the combination cabinets and handheld tool boxes but they aren't as established or respected. This isn't to say that Husky's truck tool boxes are a bad choice for all users. Some buyers are completely happy with what they get. Others may be disappointed if they expected something for the same versatility, endurance, and overall build quality of a Husky tool cabinet. Of course, the Husky truck tool box website won't go out of its way to mention that.
Will A Husky Official Website Tool Box Be Made In The US?
No. Husky's official website is actually the Home Depot website itself. The Husky brand was founded in 1924, and they did manufacture their own tools in the United States for many years. The brand was bought and sold a few times between the 1920s and 1980s, but by 1992 it was owned by Stanley Works (maker of Stanley tools) who used it as the brand they sold exclusively through Home Depot. Home Depot has since bought the name themselves, and use it for all of their in-house hand tools, pneumatic tools, and tool storage products, no matter who actually builds them.
Today, Husky tools and tool boxes are made by a number of different companies, including the Apex Tool Group and Stanley Black & Decker. Most are actually manufactured in Taiwan and China from steel sourced there. This is something else the Husky tool box website won't go out of its way to tell you.
If You're Looking For A Top Of The Line Husky Truck ToolBox, Website Searches Won't Help You
None of Home Depot's Asian suppliers make a truly top-quality truck tool box, under the Husky name or otherwise. That isn't the type of tool boxes Home Depot aims to sell, anyway. They will happily supply you with a budget priced and budget quality saddle tool box, though. It won't be terrible. It will keep the rain off your tools if you leave them in the truck overnight. It won't be terribly secure, but it will have a reasonably sturdy lock and ensure that, even if a thief can get to your tools, they will at least make some noise doing it.
If you want something better, though, you need to go with a different brand. DECKED comes to mind, but we are admittedly biased.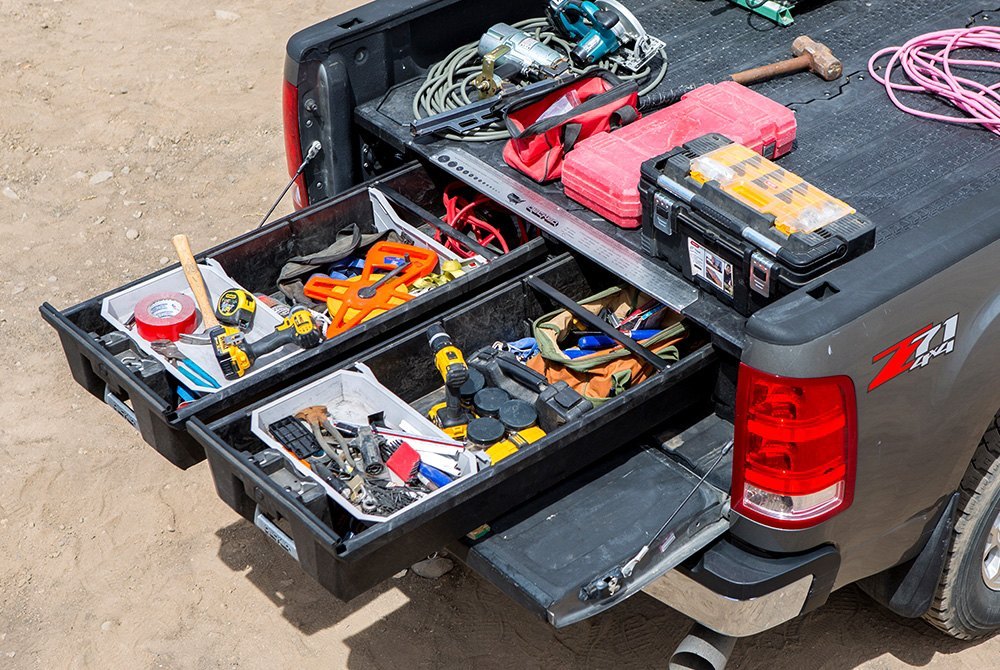 Why You Might Like A
Husky Tool Box
There are plenty of reasons not to buy budget brand tool boxes manufactured in China and Taiwan. But that said, some of what they make is actually of good quality for their price range. Their combination boxes and tool cabinets come from one of their better suppliers, and these are in many respects more of a mid-market product than a truly "budget" offering. Remember, at least 4 companies make Husky tools and tool boxes for Home Depot. Some are better than others.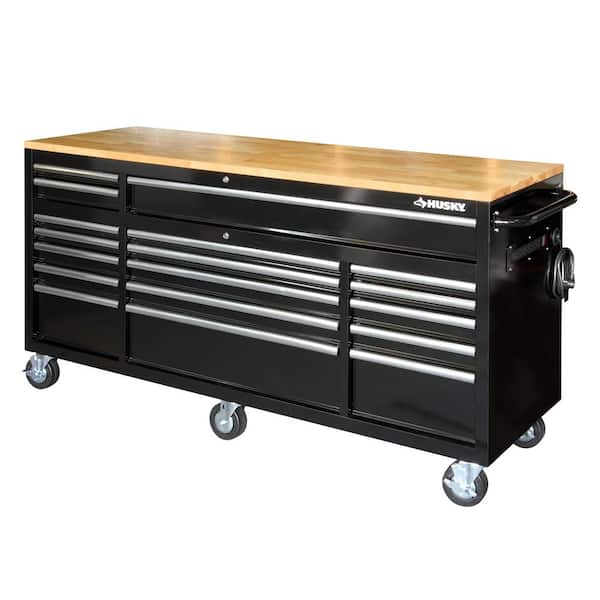 For example, their rolling tool chests really do have better and more durable caster wheels than you'll find on any other "budget" line. Many of their combination cabinets incorporate power strips and USB power supplies. The drawers on Husky tool chests once had problems, but these have mostly been solved.
Why You Might Want To Buy A Different Brand
Some people will turn away from the Husky brand because they are committed to buying American. Others will be turned off by the small compromises in steel quality in their cabinets or the lack of durability in their plastic tool boxes . Others won't feel safe leaving their tools in a Husky truck-mounted tool box unattended. But let's look at that in detail:
Husky's shop-based tool cabinets are the middle quality stars of an otherwise budget brand. That said, they aren't covered by the same lifetime warranty that many Husky tools are. There's something else the website doesn't stress.

Husky hand tool boxes are definitely keeping the Husky tool box name in the budget category. The plastic isn't as prone to shattering as some brands, but it isn't the kind of high-density polymer DECKED uses.

Husky's truck tool boxes are somewhere in between. They are made of aluminum, and while this offers more security than some of the soft plastic budget truck-mounted tool boxes coming out of China, it isn't particularly secure. Aluminum bends quite easily, and a thief with a crow bar will always get through eventually. They are definitely attractive, and it is possible a thief will mistake the diamond plate aluminum for diamond plate steel, but that isn't a chance you want to take with expensive tools or gear.
A Few Specific Examples Of Husky Tool Boxes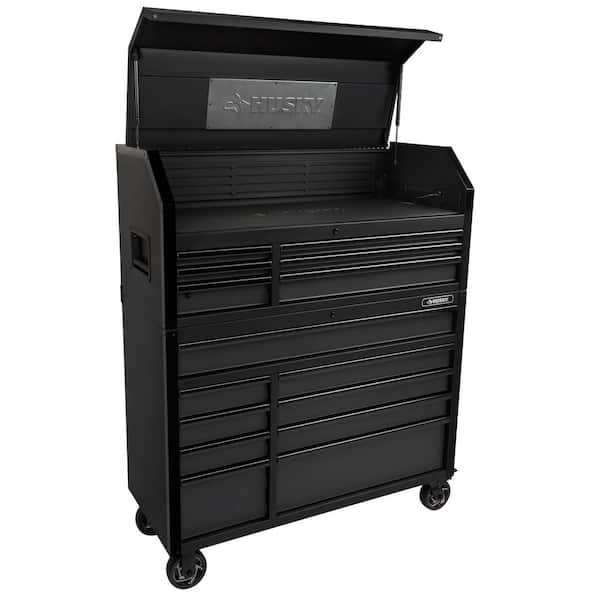 Heavy Duty 52 Inch Husky Toolbox Website Results
This is a little disappointing, as we like to go right to the horse's mouth to get the technical specs for the products we review, but the Husky tool box website isn't responding. No worries, though. Everything important is on the box.
This is a solidly built unit made of powder coated steel. It has 15 drawers of varying depth and width, as well as a spacious top hatch opening on gas pistons. Each drawer is rated at 120 pounds, regardless of its size. The back wall of the top till is magnetized, so you can keep out the tools you'll need again quickly without cluttering your work surfaces.
The lock is solid, and the locking action works well. One of the drawers sports an 8-socket AC power supply and 4 USB ports to keep phones, Bluetooth speakers, and other light electronic gear charged. It even comes with a bottle opener.  
Husky 16 inch plastic tool box  
According to the Husky official website, tool boxes like this one are made of "impact resistant polypropylene." In all honesty, the plastic quality isn't bad. However, the whole thing feels a bit flimsy for something that sells for $50 or more. The handle is made of the same plastic, but the latching hasp is made of decent steel. At least it won't fall open!
The inside is fairly typical for a hand tool box. A lift-out tray covers a decently sized main storage bay which is plenty for a few hammers and screwdrivers. It might hold a smallish power drill as well. This isn't anything to write home about, and at its current price, it should be.
Husky 20-inch metal tool box
This is a Chinese-made steel metal tool box , and not bad for what it is. It has a similar build quality to Husky's shop bound tool chests, and may well come out of the same set of factories. It features three front-opening drawers and a top hatch with a cantilevered organizing tray attached under the lid. Overall, this is not a bad little steel tool box, but it isn't really "budget priced" either.
Two steel latches secure the lid, but the drawers themselves do not lock in place. This could make it a little treacherous to tote around by hand for very long. The drawer slides look very similar to the high-quality slides on Husky's static tool chests, but one can't be sure.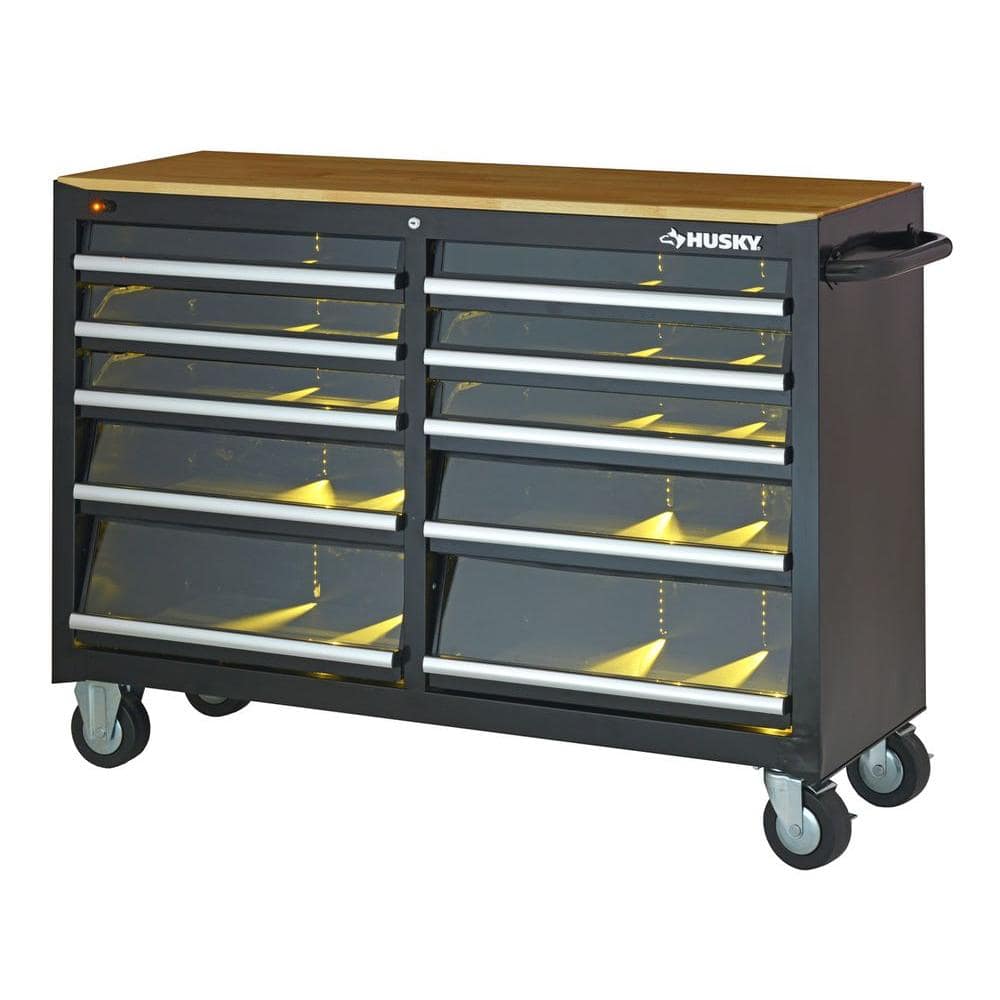 Husky 52-inch tool cabinet with LED lighted drawers
This is very similar to the Husky 8-drawer tool cabinet we've reviewed elsewhere, with a few new bells and whistles. It has ten drawers (2 large, 2 medium, and 6 small) and a wooden worktop. The front of each drawer is clear, and each is lit by 2 small banks of LED lights. The lights are mounted in the back panels of the drawers, so they work even when the drawer is fully pulled out. All of the lights are operated by a single switch at the top left side of the cabinet. Of course, the unit must be plugged into a wall socket to operate.
The drawer bearing slides seem sturdy enough, and each drawer is rated to hold 75 pounds. The Husky tool box website (that is to say, the Home Depot website) says this unit is made entirely in the US. If true, that could be a good move for the brand. Some brands label goods manufactured overseas and finished or assembled in the US as "made in the USA," though, so take that with a grain of salt.
Overall, this is more of a gimmick piece than a tool storage solution. The lights and glass front drawers may be very useful for parts storage or of some kind of customer-focused display piece, but it isn't incredibly well suited to tool storage. Who keeps their workshop dark in the first place?
Husky 26-inch 4-drawer storage cabinet
This is really a top box for the 26-inch 4 drawer roller cabinet, but it can certainly be used on its own. Whether as part of a mixed-brand combination cabinet or placed directly on the worktop in your shop, it is a good example of what we like about Husky tool chests.  
While the steel is not incredible (21 gauge of moderate quality), it is certainly strong enough for the purpose. This is a fairly small unit, and as a top box it should not have to support anything beyond its own load and weight. The slides on the drawers run smoothly on ball bearings, and the top hatch opens smoothly on gas struts. The price is right, as well. You can sometimes pick these up on sale for $50 or less at Home Depot.
The DECKED Drawer System – A Way To Store Your Tools Securely On The Move
The problem with almost any truck-mounted tool or gear storage system is that it takes away from your bed space, which is what most people buy a pick-up truck for. The DECKED Drawer System is made exclusively in the USA, and lets you store up to 2,000 pounds of tools or gear in a weatherproof, secure, and easily accessible way. Better still, it all fits in under a heavy-duty poly bed protector. Because the second deck sits above the wheel wells, it actually gives you more usable space.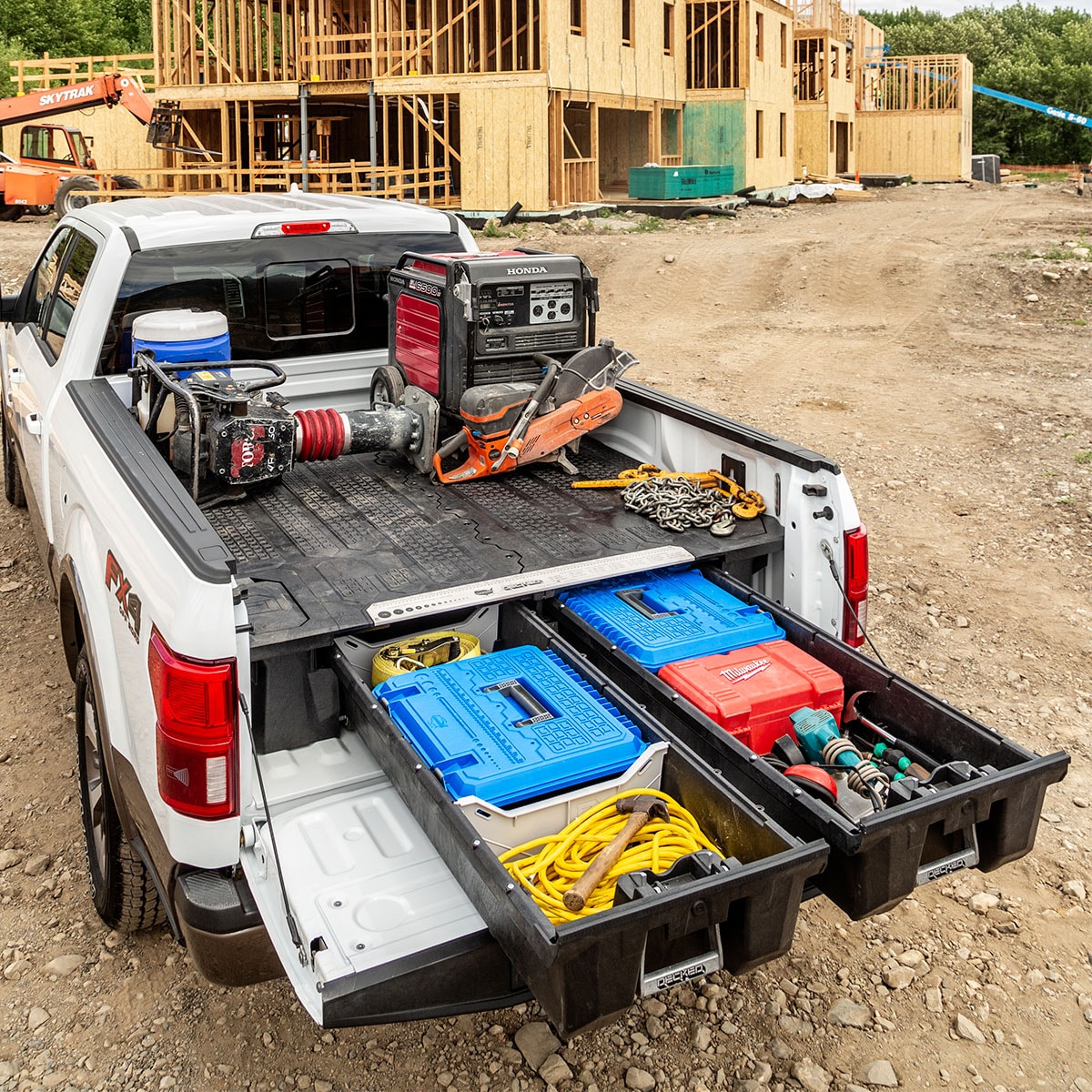 The DECKED Tool Box – Better Than Any Husky Tool Box For Trucks
DECKED Tool Boxes mount just behind the cab of most pick-up and work trucks, in the bed above and between the side rails. The main body is made of high-density polymers with substantial amounts of steel and aluminum reinforcing. The locking mechanism has been specifically armored to prevent tampering or forcing the unit open, as is all too easy with all-aluminum tool box for trucks. It is entirely weatherproof and supports internal storage divisions to keep your gear organized. The DECKED Tool Box is also made only in the USA.
In a nutshell, Husky makes very good mid-budget shop tool chests but a questionable truck box . If you need to keep your tools or other equipment safe and organized on the move, you're better off with DECKED.