CargoGlide
SKU: CG1000-5641
/mo
Finace with low monthly payments
Affirm
CargoGlide
Sale price

From $1,399.99
Regular price
(/)
Work Smarter, Not Harder
01
Load It Up and Get To Work
Never crawl into your truck bed or van again
Multi-position cargo stops
Industrial-grade American steel and aluminum
Tray uses resin coated marine-grade plywood
02
Roll it out and get rollin'
Ballsy ball bearings for buttery-smooth action
Easily operated with one hand (& a donut)
Goes on top of Drawers for the ultimate setup
Installation so quick and simple, monkeys can do it
03
You Want Options? We Got Options.
1,000 lb, 1,500 lb, 2,200 lb payload options
Choose 70% or 100% extension
High Sides and additional tie downs available
Beer and pretzels, Drawers and CargoGlide
01
Load It Up and Get To Work
Never crawl into your truck bed or van again
Multi-position cargo stops
Industrial-grade American steel and aluminum
Tray uses resin coated marine-grade plywood
02
Roll it out and get rollin'
Ballsy ball bearings for buttery-smooth action
Easily operated with one hand (& a donut)
Goes on top of Drawers for the ultimate setup
Installation so quick and simple, monkeys can do it
03
You Want Options? We Got Options.
1,000 lb, 1,500 lb, 2,200 lb payload options
Choose 70% or 100% extension
High Sides and additional tie downs available
Beer and pretzels, Drawers and CargoGlide
Dive Deeper Into CargoGlide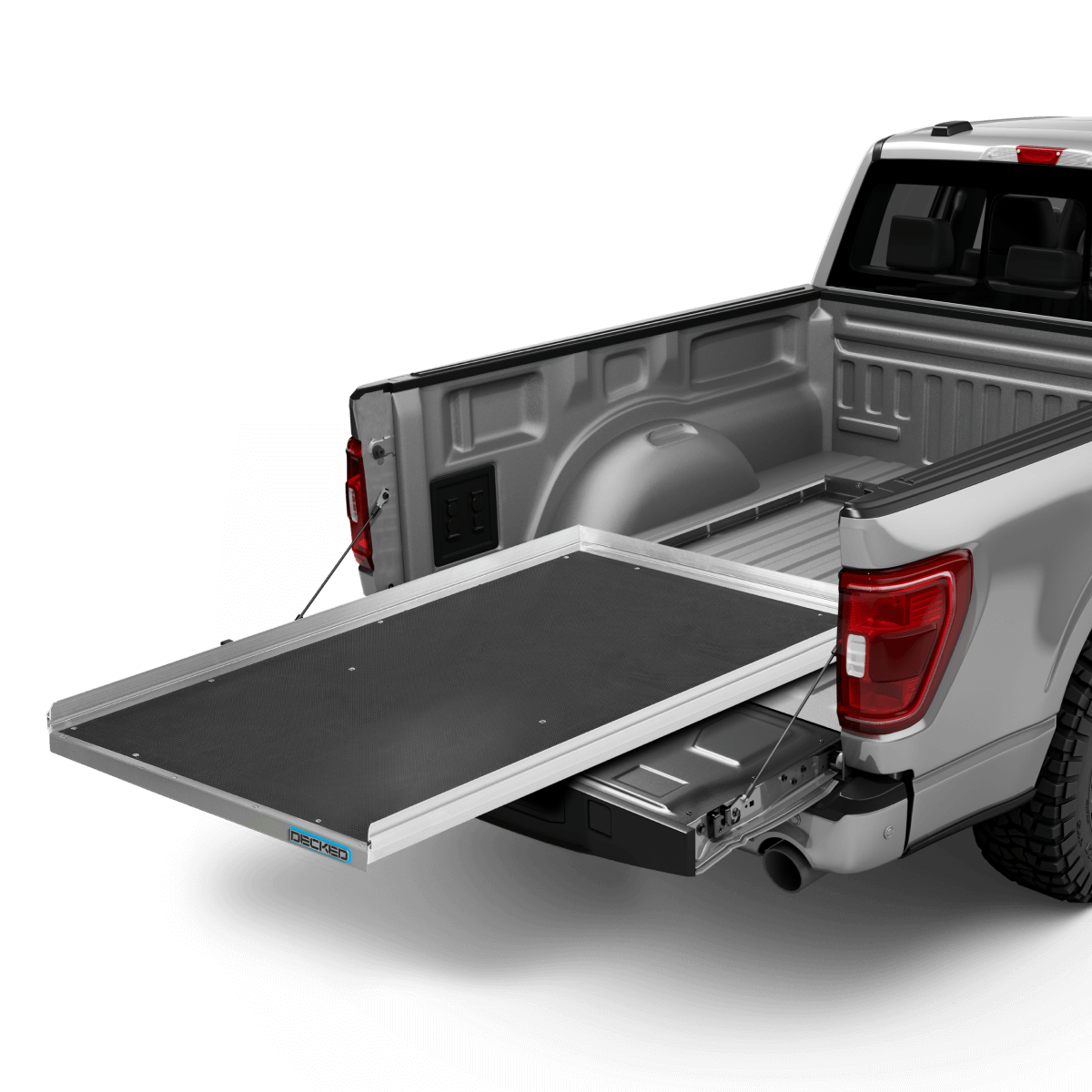 Easy to Use
Never crawl into your bed again. Leave the pillow talk at home. Rugged construction and an elegant operating design make work life easy.
One-Handed Operation
Keep talking on the phone while you slide up to 2200 lb of work out to you with ease. Multiple cargo stops let you control the extension.
Secure Cargo Retention
Side channels offer infinite adjustable cargo tie-down locations. Comes standard with 4 galvanized Tie-Down Loops.
Heavy Loads? Slopes? No Problem
Slide thrust bearings keep the loaded tray from binding when parked on angled slopes and rolling smoothly regardless of torque or load.
Easy Installation
CargoGlide comes pre-assembled. Simply drill according to instructions, install hardware and bolt it down. Boom. 30 minutes and done.
"The functionality of the CargoGlide is pretty bada$$. Comes with 4 tie-down points that you can slide up and down the tray edge. Extremely well built and glides very smoothly when pulling out. This sucker right here is what every truck needs."
"I don't have to climb in the bed of the truck. I let the CargoGlide come to me. I don't need to overextend myself in the bed of the truck. Make sure you purchase the eye bolts with it to help attach tie downs."
"I have the Drawer System and CargoGlide. I no longer have to get my aged and broken body into the bowels of my covered truck bed. Best addition I have ever made to any vehicle I have owned."
"The CargoGlide has made my day to day transfer of tools and materials from unit to unit much easier. At 59 years old this month I'm grateful for not having to climb in and out of the bed of my truck anymore. Thank you Dr. Decked!!!"
At a Glance
2200 lb
Payload
Available in payload ratings of 1,000 lb, 1,500 lb, and 2,200 lb.
100%
Extension
Comes in either 70% or 100% extension options.
99%
Trucks and Vans on the Road
Fits nearly anything with a bed. Select models compatible with DECKED Drawer Systems.
Nerd out on tech specs
If you're the type that needs to know everything, here you go:
Slide it out and get rollin'
FAQ
Have a question?
You know how they say there's no such thing as a dumb question? Well, they were wrong, but here are some common not-so-dumb ones. Still flummoxed? Contact our customer support.
Contact Us
Will CargoGlide fit my truck?

CargoGlide fits nearly all trucks on the market. CargoGlide is not compatible with composite beds, such as the 2022 Tundra or most Tacoma trucks. Composite beds do not provide enough support to anchor a CargoGlide safely. CargoGlide is also not compatible with any truck bed that has features that extend out of the truck bed like a 5th Wheel, Gooseneck hitch or bed mounted spare tire.
Can I put a CargoGlide on my Drawer System?

Yes. Check out CargoGlide for Drawer Systems here. All 70% extension CargoGlides with a 1,000 lb payload are compatible with a Drawer System. No full extension or higher payload slides can be used. Note:  If you have a Drawer System installed in your truck already, you do need to remove it from the truck to install the CargoGlide.
How many holes do I have to drill to install CargoGlide in my truck bed?

The CargoGlide install requires between six to eight drills into your truck bed, depending on truck length. For more detailed information, check out our Installation Manuals here.
Can CargoGlide go into a van?

Yes! Click here to learn more about DECKED CargoGlide for Cargo Van.
This product has no reviews yet.